Your Trees Deserve The Best Care, and We're Here to Provide It
Did you know that Boulder, Colorado has been ranked the smartest city in the U.S? In addition to this high honor, the City of Boulder was ranked among the top 50 Cities that hold the most PHDs per capita.
So what does all this brainpower have to do with trees? At Blue River Forestry & Tree Care, it's the goal of our Boulder arborists to bring the latest in tree health knowledge, industry innovation, and technological breakthroughs to our clients. New knowledge and continued research provides arborists like ours with improved tree care methods to better care for the community's urban canopy. There's no better place to be continually learning and growing than right here in Boulder, Colorado.
Caring for Boulder's Urban Canopy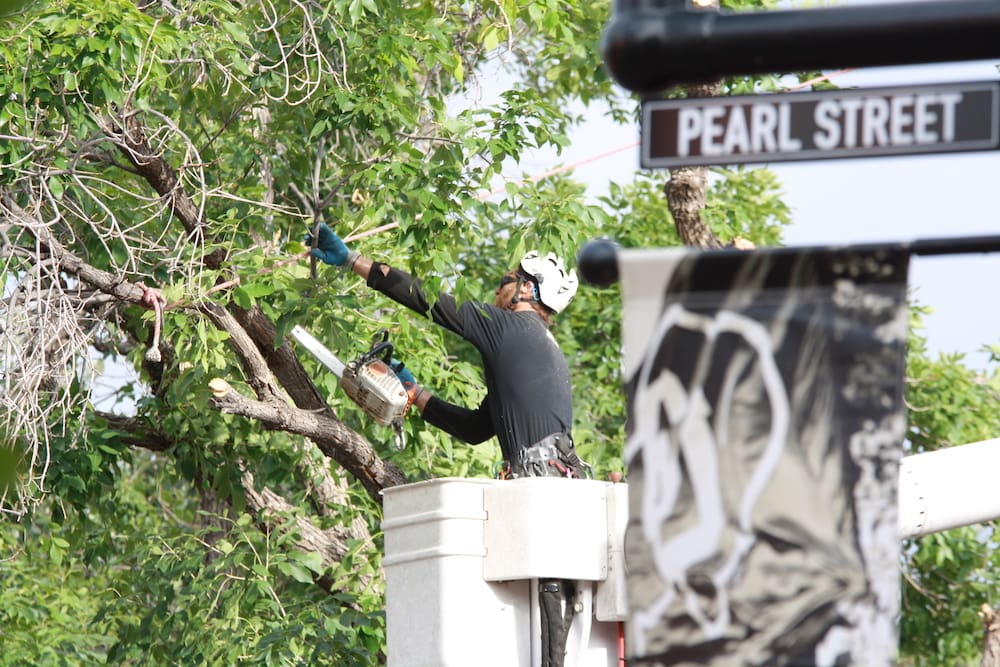 The city of Boulder's historic landmarks and breathtaking landscape are the reason so many have come to call it home.  For more than ten years, Blue River Forestry & Tree Care has maintained and cared for thousands of trees throughout the city of Boulder. We have done both residential and public projects, including those at the iconic Pearl Street Mall and Chautauqua Park.
The city of Boulder takes the stewardship of its urban tree canopy seriously. They are paving the way for other cities by creating their own licensing division for tree care professionals.  Using the International Society of Arboriculture as a model, the city of Boulder requires tree care professionals to hold an ISA (International Society of Arboriculture) Certification to work on public trees, and to be licensed within the city to provide services to residential properties. Our arborists are all ISA certified, and are continually working to gain more knowledge and expertise in their field.
Trees Face Many Challenges In Colorado
Between its legendary greenbelt and its vast, open spaces, Boulder is home to almost 600,000 trees. These include the ones living in its city parks, streets, neighborhoods, and other green spaces - not to mention the thousands of trees cared for on private property as well.
While at first glance the vast majority of these trees look healthy, keeping them that way can be a challenge. Boulder's scorching summer days, general lack of rain, strong winds year-round, and heavy snow all play a part in stressing trees. With the recent invasion of emerald ash borer (EAB), ash trees face an additional deadly threat that other trees do not.
With all of these environmental stressors affecting our urban forest, safe and effective tree care by a certified Boulder arborist has never been more important.
The Many Benefits of Trees
More and more studies are showing that trees add more than just beauty to our surroundings. It turns out that they help create and maintain a healthy environment as well. Healthy trees and green spaces have been shown to lower stress levels - and even blood pressure - in people that are exposed to them.
The University of Colorado at Boulder provides a Tree Walk for any and all who want to learn about the important role that our majestic trees play in setting the atmosphere on campus.  The Boulder community places a high value on its urban forest, and as a result, our community is healthy, happier, and less stressed than others.
Your Trusted Boulder Arborist
As a locally owned and community-minded company, we are committed to the conservation, care, and health of Boulder County's urban forest. Blue River Forestry & Tree Care realizes that education is ongoing. Through continuing arboriculture education, attending conferences, and participating in tree climbing competitions, we strive to remain on the cutting edge of tree service. We take great pride in our work, and our foremost commitment is to enhance our community's most valuable assets: its trees.
Construction Preparation and Damage Assessment
And much more
Excellent Tree Services For Boulder County's Urban Forest
At Blue River Forestry & Tree Care, we love trees and are committed to the health and care of yours! We offer all aspects of arboriculture, including tree trimming and pruning, tree removal, stump grinding, tree planting, Emerald Ash Borer consultation and treatment, plant health care services, forestry services, tree cabling, land clearing, certified arborist, aerated compost tea, fire mitigation, routine tree care, land clearing, and much more.
We are fully insured and employ ISA Certified Arborists. We have the machinery, experience, and staff to manage all of your tree care needs, and provide tree care services to Boulder, Colorado, Broomfield, Louisville, Lafayette, Longmont, Erie, and Berthoud.
Get a Free Root-to-Crown Check-Up for Your Trees
Call for a no obligation, free tree care evaluation, call (720) 256-9056