We'll Help Your Trees Stay Strong, Healthy, And Sound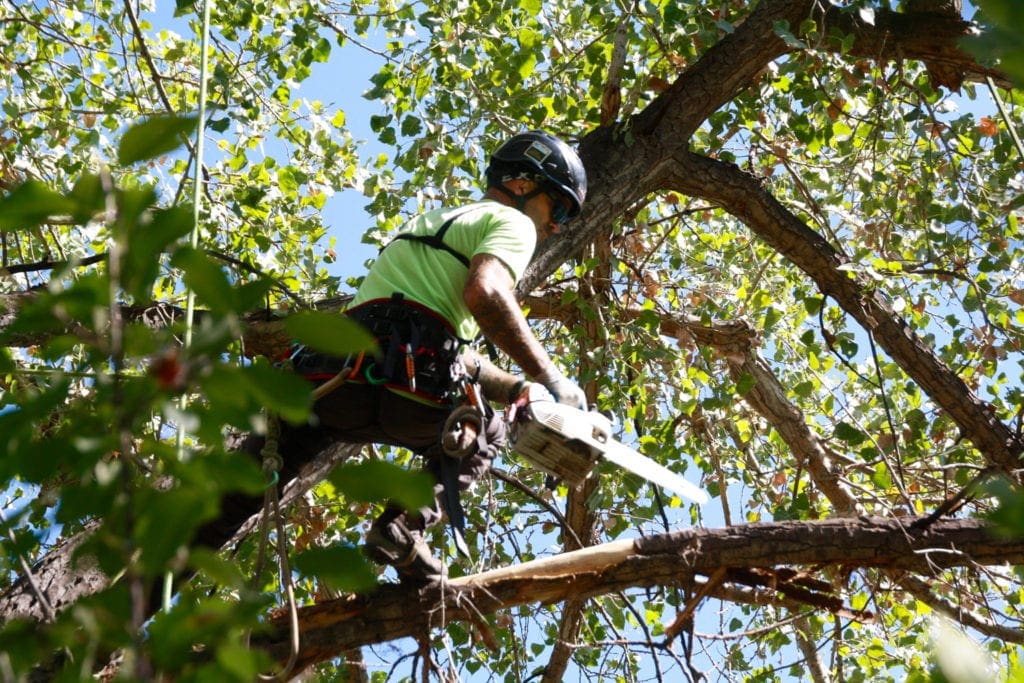 Has Your Urban Forest Grown Into a Jungle?
Do your Boulder, Colorado trees look overgrown and a little on the wild side? Perhaps they're strangely shaped, with errant limbs shooting off in all different directions. Their leaves and branches may be packed so tightly together that your tree is now competing with itself for precious space and sunlight. If you've noticed any of these issues or others, such as bare branches with little to no leaf growth, it may be time to give us a call! With our tree trimming services, we'll have your plot of urban forest looking spectacular and safe again.
Regular tree trimming is one of the most beneficial services you can provide for not only your trees, but your entire property. It virtually always results in healthy, beautiful trees that don't threaten structures or power lines, are sturdy and sound, and are aesthetically pleasing in form.
An improperly trimmed tree can suffer lasting damage which may even shorten its life. We believe that our communities' urban forests are a priceless asset, and we are passionate about keeping them healthy. Our ISA Certified Arborists are half scientists and half artists. They understand the biology of all of the different tree species that grow locally and will employ the proper trimming techniques for both the tree and its unique situation.
Keep Up With Your Tree Trimming for Health and Maintenance
Extreme weather in Boulder, Colorado makes proper tree care a must if you want to have a healthy and safe outdoor environment. A mature tree will benefit from the removal of dead, diseased, and weak branches from its crown. By opening up the tree canopy, air circulation is increased and light penetration is improved, which improves overall tree health and appearance.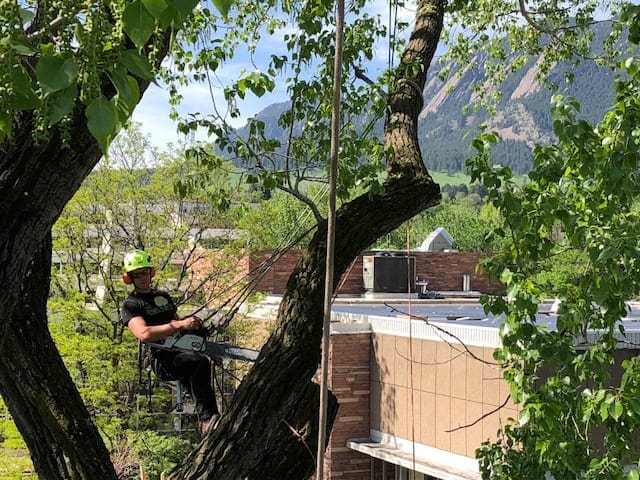 Safety Always Comes First!
Trees that haven't been properly maintained can become a danger to both you and your neighbors, and they increase the risk of injury or property damage. A regular maintenance schedule does not entirely eliminate the possibility of an unexpected break, but it will make your trees stronger, sturdier, and more likely to stand up to the extreme weather of the Front Range.
Prevent Storm Damage With Regular Maintenance
High winds and heavy snow loads can present a serious problem for any tree, especially those with poorly maintained limbs. Broken limbs become an entry point for disease and insects, which further wear down already weak limbs and pose a threat to anyone or anything located below. A proper pruning schedule will keep your tree's canopy appropriately thinned and healthy, decreasing the likelihood of broken limbs, injury, or property damage.
Tree Trimming: The Best TLC For Your Entire Boulder, Colorado Yard
Trees that are not properly pruned and cared for can become headaches and even heartaches down the road. Show not only your trees but your entire landscape some tender loving care with regular tree trimmings and maintenance. You will reap the benefits for years to come.
Video of a Blue River Tree Trimmer at Work
Climbing trees is part of the job and our arborists love it! Check out one of our crews at work.
Excellent Tree Services For Boulder County's Urban Forest
At Blue River Forestry & Tree Care, we love trees and are committed to the health and care of yours! We offer all aspects of arboriculture, including tree trimming and pruning, tree removal, stump grinding, tree planting, Emerald Ash Borer consultation and treatment, plant health care services, forestry services, tree cabling, land clearing, certified arborist, aerated compost tea, fire mitigation, routine tree care, land clearing, and much more.
We are fully insured and employ ISA Certified Arborists. We have the machinery, experience, and staff to manage all of your tree care needs, and provide tree care services to Boulder, Colorado, Broomfield, Louisville, Lafayette, Longmont, Erie, and Berthoud.
Get a Free Root-to-Crown Check-Up for Your Trees
Call for a no obligation, free tree care evaluation, call (720) 256-9056