Leave Your Tree Removal To The Experts!
Tree removal is a serious undertaking that requires the care and skill of professionals. In most cases, the affected tree is dead or dying and already at risk of failure, so it's important to get it taken care of as soon as possible. A tree located in a precarious position near other trees, structures, or power lines requires not only skill, but specialized equipment to take it down without causing injury or damage.
The experts at Blue River Forestry & Tree Care of Boulder, Colorado use the most up to date techniques and low impact equipment to ensure the surrounding property is kept safe. We will approach your tree removal with the seriousness and care it deserves, and leave your property in tip-top shape before we leave.
Make the safe decision and resist the urge to do it yourself! Call certified professionals with the expertise and gear to handle the job safely. Blue River Forestry & Tree Care is fully insured and employs ISA Certified Arborists who have been trained to handle dangerous tree situations. We have the machinery, experience, and staff to manage all of your tree care needs - including hazardous removals.
Our Boulder, Colorado Team Can Handle Any Tree Removal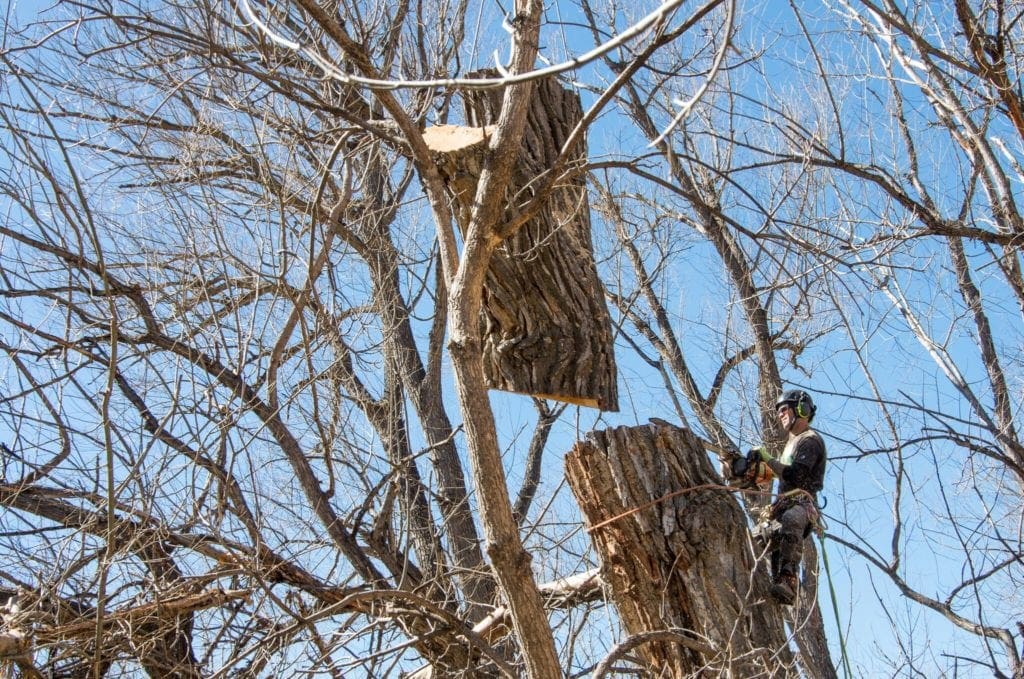 Our crews are trained in everything from shrub removals to hazardous tree removals to large scale technical crane removals in difficult locations. They're experienced, professional, and safety-conscious, and will bring all those skills to your property. Additionally, a detailed job site cleanup is included with every removal service to make the process easier on you. We also offer stump grinding and tree planting services, to ensure your landscape continues to thrive and provide you and your family with the benefits of a living forest.
Ash Tree Removal in Boulder, Colorado and Surrounding Areas
Emerald Ash Borer is an invasive beetle that feeds on ash trees, nearly always killing them in the process. Because of the high number of ash trees in the United States (including Colorado), they have found it easy to thrive here. Due to the large scope of Emerald Ash Borer infestation, we recommend a thorough evaluation of any ash trees on your property. Our ISA certified arborists will diagnose the tree, and if it's determined that tree removal is the best option, Blue River Forestry & Tree Care will quickly remove the tree in a way that limits the spread of Emerald Ash Borer to other Ash trees throughout Boulder.
Emergency Tree Removal
Although most people associate emergency tree removal with wintertime weather, high winds in Boulder County aren't limited to any one season. If you have a downed tree or an emergency situation, call us at (720) 256-9056  for an immediate response. We don't outsource our phone and email, so you always get a member of our local team!
Expert Tree Removal Done Quickly
On rare occasions, a perfectly healthy tree needs to be removed, as in the case of new construction or a tree that has severely overgrown its area. Healthy tree removal brings with it a whole new set of challenges, but our arborists have the expertise and equipment to safely remove the tree without damaging the rest of your urban forest. Don't forget our stump grinding and replacement tree planting services, either! They will help maintain the beauty and tranquility of your plot of urban forest.
Excellent Tree Services For Boulder County's Urban Forest
At Blue River Forestry & Tree Care, we love trees and are committed to the health and care of yours! We offer all aspects of arboriculture, including tree trimming and pruning, tree removal, stump grinding, tree planting, Emerald Ash Borer consultation and treatment, plant health care services, forestry services, tree cabling, land clearing, certified arborist, aerated compost tea, fire mitigation, routine tree care, land clearing, and much more.
We are fully insured and employ ISA Certified Arborists. We have the machinery, experience, and staff to manage all of your tree care needs, and provide tree care services to Boulder, Colorado, Broomfield, Louisville, Lafayette, Longmont, Erie, and Berthoud.
Get a Free Root-to-Crown Check-Up for Your Trees
Call for a no obligation, free tree care evaluation, call (720) 256-9056