Ash Borer Treatment in Boulder County
Emerald Ash Borer Infestation in Boulder County and Colorado
The US invasion of the emerald ash borer (EAB) was first identified in 2002 near Detroit, Michigan. Since then, the beatles have killed hundreds of millions of ash trees in North America. In September of 2013, Emerald Ash Borer was discovered in Boulder. With no native predators in an area containing tens of thousands of ash trees, the impact of the Emerald Ash Borer in Boulder and the surrounding areas will continue to be substantial.
Ash trees offer attractive growth, a variety of fall colors, and add unique beauty to urban landscapes. There are an estimated 8 billion ash trees in North America, which gives these beetles the advantage of a huge amount of food and habitat. The Emerald Ash Borer is an invasive species from Asia that is extraordinarily destructive to this species of tree and has severely impacted the ash tree population in the United States.
Considered one of the most destructive forest pests in the history of North America, the Emerald Ash Borer population will only continue to grow without the proper treatment. Fortunately, Ash Borer treatment is one of the many services provided by the arborists at Blue River Forestry & Tree Care. We can diagnose your tree and, if it is infested, offer you advice on the best course of action.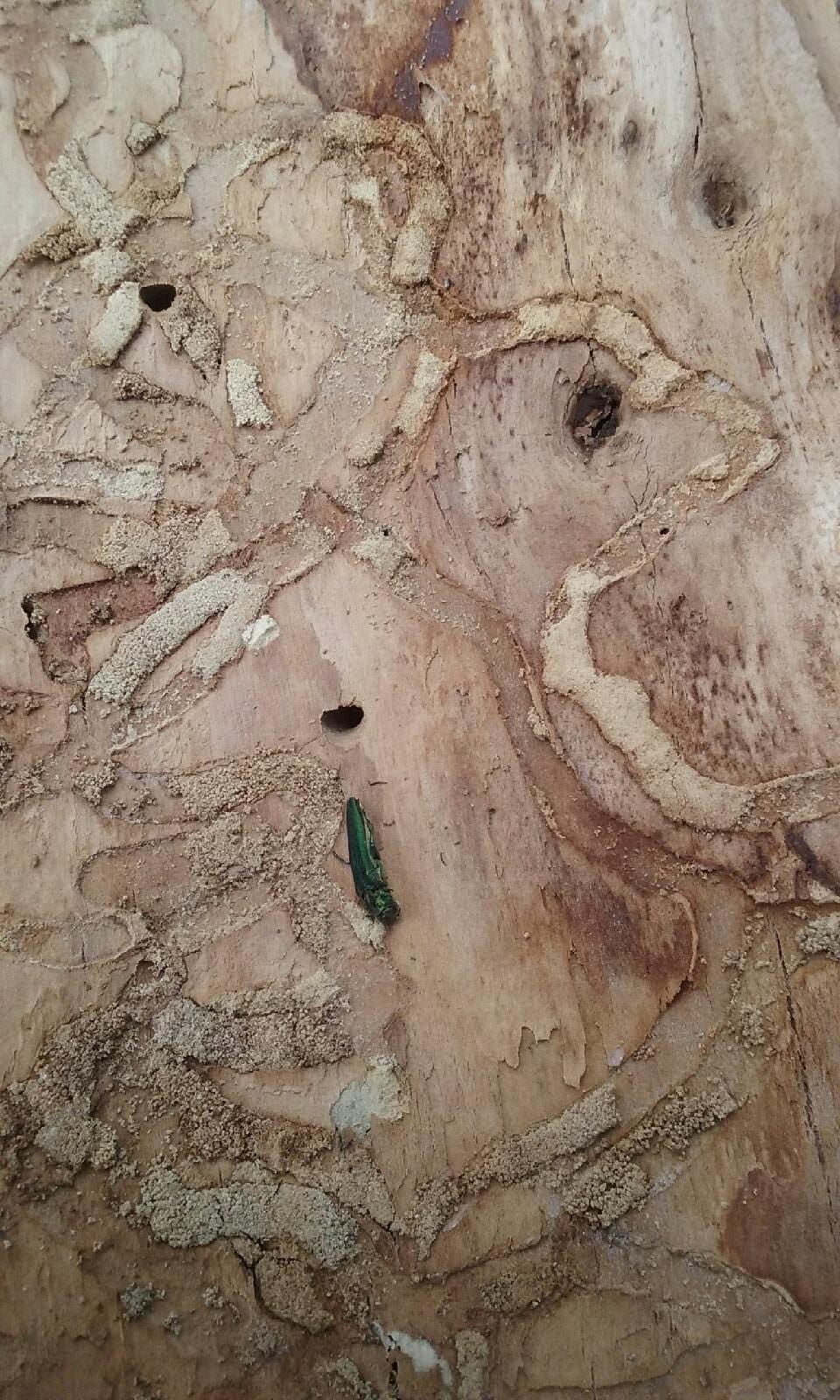 Prevention and Treatment of Emerald Ash Borer Infestation
The best step towards preserving your ash trees during this epidemic is through ongoing preventative injections. At Blue River Forestry & Tree Care, we offer two of the most effective products for the best possible protection against borer infestation. Our ISA certified arborists will help you decide whether your ash trees are healthy enough to qualify for preventative ash borer treatments, and will help guide you through the appropriate next steps to ensure the long term vigor and vitality of your ash trees.
Identifying Ash Borer Infestation Symptoms
With the removal of many of Boulder's beautiful ash trees due to infestation, keeping an eye out for symptoms is important. Ash Borer treatment started too late is not as effective, so it's best to catch it early! Look for:
     Thinning of upper branches and twigs.
     Loss of leaves.
     New sprouts on the lower trunk or branches.
     Vertical splits in the bark that expose inner wood
Our arborists are fully equipped with the knowledge and experience to correctly identify an infestation in your ash tree and come up with a complete, straightforward Ash Borer treatment plan for the immediate care and long-term management of the affected trees.
Removal and Disposal of Ash Borer Infested Wood in Boulder
Due to the biology of the Emerald Ash Borer and the current scope of the infestation in the Front Range, removal of damaged or dead ash trees is often the best option. Our ISA certified arborists will work with you to determine the safest, most efficient way to remove your tree while limiting the spread of the infestation to other ash trees throughout Boulder.
Additional Resources on The Emerald Ash Borer
A Visual Guide to Detecting Emerald Ash Borer Damage
Emerald Ash Borer in Colorado - Identification of Insects and Damage of Similar Appearance
Is Your Landscape at Risk?
If you live in Boulder County, chances are you have at least one ash tree that needs to be protected from decline or death due to Emerald Ash Borer infestation. We employ ISA Certified Arborists, and have the machinery, equipment, and staff to manage your specialty tree care needs. We service to Boulder, Colorado, Louisville, Lafayette, Longmont, Niwot, and Erie.
Has your Plot of the Urban Forest Been Invaded by Emerald Ash Borer?
For a free evaluation for this destructive pest, and advice how to rid yourself of it, Call  (720) 256-9056