Our Professional ISA Arborists Will Help You Care For Your Boulder County Trees
In the forestry and tree care industry, arborists are certified through the International Society of Arboricultural - or ISA for short. The ISA sets forth a comprehensive set of standards for education and training in the field of arboriculture that help its professionals (like us) provide the best service possible. At Blue River Forestry & Tree Care, our ISA certified arborists maintain these certifications through ongoing education, conferences, industry testing, and even participation in exciting events such as tree climbing competitions.
Our philosophy toward education is simple: you can never have enough.
Inspired by the need to improve the industry, Blue River Forestry & Tree Care has completed the education required by the ISA and met their high certification standards. Now we're taking our commitment to excellence in the industry to communities throughout Boulder County.
The City of Boulder and other municipalities - like Longmont, Louisville, and Erie - have created a Tree Contractor License to ensure that all work being performed by tree care companies is done in a safe, professional manner and is up to industry standards. Safety and the care of our customers are our two highest priorities, and we strive to go above and beyond in exceeding the expectations of both you and our communities as a whole.
At Blue River Forestry & Tree Care, we are committed to the conservation and care of Boulder County's urban forest. We offer all aspects of arboriculture, including tree trimming, tree removal, and plant health care. We employ ISA Certified Arborists, and have the machinery, equipment, and staff to manage all of your tree care needs. Though we're based in Boulder, Colorado, we also offer our services to the communities of Louisville, Lafayette, Longmont, Niwot, and Erie.
A Note From the Owner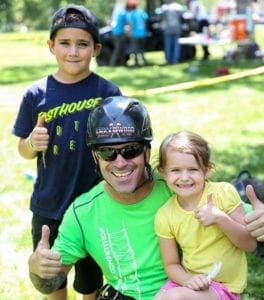 Blue River Forestry & Tree Care is the realization of a goal to provide Boulder County, CO with a higher standard of tree care.
This goal was formulated after years of working in the Boulder tree service industry and experiencing a lack of urgency and understanding as to the proper methods of tree care.
Inspired by the need to improve the industry, Blue River Forestry & Tree Care of Boulder, CO completed the education and certification standards set forth by the International Society of Arboriculture and began what would be an ongoing commitment to excellence in the industry.
Blue River Forestry & Tree Care realizes that education is ongoing. By way of continuing arboriculture education, attending conferences, and participating in tree climbing competitions, Blue River strives to remain on the cutting edge of tree service. We take great pride in our work, as our foremost commitment is to the enhancement of your property's most valuable assets: its trees.
Thank you,
Dustin R. Brown
Owner / Founder
CTSP Training Motivates Brandy Brown to Find Creative Solutions
"'You have to really understand how people learn and how important that is when you are teaching safety material,' says Brandy Brown, co-owner with her husband, Dustin, of Blue River Forestry & Tree Care in Boulder County, Colorado.
That is why Brown, director of operations for the 25-employee company, which she says is well known in the Boulder area for its safety and efficiency, pursued TCIA's Certified Treecare Safety Professional credential. The CTSP program trains tree workers on how to develop a culture of safety at their workplace. From a business standpoint, it also is a prerequisite for earning TCIA Accreditation, which the 14-year-old, seven-year TCIA member company is currently working on." [Read More]
Dustin Brown
Favorite Tree: Texas Red Oak
Dustin Brown
Owner
ISA Certified Arborist with Tree Risk Assessment Qualification,
ISA Certified Tree Worker Specialist RM2444AT, CO Dept. of Ag. Qualified Supervisor #30226
Dustin Brown is known as a specialist in his field because of his commitment and dedication to the highest quality tree care. He has been an ISA Certified Arborist for over 20 years and loves this field because it consistently provides a space to learn and grow. He feels a strong sense of accomplishment in arboriculture, knowing he has helped preserve a living organism for generations to come.
Brandy Brown
Favorite Tree: Honey Locust
Brandy Brown
Owner
Certified Tree Care Safety Professional CTSP # 04063
Choosing a career in arboriculture gave Brandy the ability to combine her love for communications and account organization with her passion for bettering the environment. Brandy has a well-rounded education in safety concepts, incident control and prevention, and communications, that she uses to find new and creative ways to enhance the education, safety and personal development programs at Blue River Forestry and Tree Care.
Maria Olmsted
Favorite Tree: Sugar Maple
Maria Olmsted
CO Dept. of Ag. Qualified Supervisor #37006
With a Bachelor of Science in Environmental Biology from the SUNY College of Environmental Science and Forestry and a strong background in rock climbing, a career in
Arboriculture felt like home for Maria. Maria runs the day to day operations, is the director of the plant health care program and has a wealth of knowledge that would impress even the most
experienced entomologists.
Kara Cross
Kara came to Blue River over 4 years ago with an extensive background in management and administrative services. Her ability to thrive in a fast paced environment allowed her to find her niche and grow with the company. Kara's ability, and love, to organize and maintain many moveable parts within the company assist her in being an effective Administrative Wizard.
Kara says , " Some of my favorite things are spending time with my husband of 25+ years, her wonderful daughter and her two dogs. Oh, and my Jeep, Artemis, of course. I really cherish my job at Blue River because they allow me to be myself, utilize my past experiences, and help others succeed. It is my family away from home."
Joshua Rawson
Favorite Tree: Sugar Maple
Joshua Rawson
ISA Certified Arborist with Tree Risk Assessment Qualification MI 4016A,
CO Dept. of Ag. Qualified Supervisor #34456
Josh has always been passionate about trees and the outdoors. With a Bachelor of Science degree in Forestry from Michigan State University, he started his career in his home state of Michigan, where he learned the ropes of tree care and honed his skills on insect and disease management. Josh is an avid skier and nature enthusiast, bringing him to continue his education and training in Colorado not long after graduation. Josh's experience spans from residential tree care, to municipal urban forestry management. Josh joined the Blue River team in 2018 and is a skilled pro when it comes to communicating with clients on their tree care needs.
Mark Wall
ISA Certified Arborist #RM-8327A
After completing his business degree at the University of Missouri, Mark joined the Blue River crew in 2015 . As a collegiate wrestler Mark is no stranger to hardwork and dedication and has used his knowledge and experiences to become a skilled removal specialist, field leader and mentor in the arboriculture industry. Mark's favorite part of the tree care field is the technicality of larger tree trims and removals. As a senior arborist at Blue River , Mark has been an integral part of the growth and success of the company.
James " Jimmy" Couturier
Favorite Tree : Japanese Maple
James " Jimmy" Couturier
ISA Tree Worker Specialist RM-8578T
Hailing from the East Coast , James known by most as "Jimmy" joined the Blue River crew in 2017. Arboriculture is important to Jimmy because this career is more than just a job or hobby. Climbing and taking care of trees is his passion and he can't see himself doing anything else. Continuing education ranks high on Jimmy's priority list and he strives to keep learning and mastering the art of tree care. When not at work Jimmy is an outdoor enthusiast and loves the art and science of navigating his way through the great outdoors.
Bailey Null
Bailey joined the Blue River crew in 2018. He has strong experience with tree climbing, tree service equipment and repairs, and as an industry leader. The thrills and excitement that each day brings fuels his passion for arboriculture. Bailey enjoys the teamwork aspect with his fellow co workers and that each day in the tree world is always going to bring a different challenge. His favorite part of arboriculture is storm clean up and hazardous tree removal because of the technicality and particular challenges this type of tree work brings.
Kenneth Lieb
From Bethany Beach, Delaware, Kenneth made Colorado his home in 2017. With a BFA from the PA College of Art and Design, he is excited to bring principles of aesthetics and balance into the tree with him. Kenneth is passionate about maintaining the health and beauty of our trees here in Boulder and aims to continuously learn to care for them more effectively. Onward and upward!
Eric Sager
Eric has spent the better part of 20 years in the tree world, with the beginnings of his career being focused in forestry and fire mitigation applications, before moving into urban forestry. Eric is loving the challenges that climbing 'city' trees has brought forth. His passion for the outdoors and arboriculture all started in the Mulberry tree he used as a playground when he was young. Eric enjoys spending time with his family camping, rock climbing and traveling, and caring for their variety of animals from horses to snakes.
Kody Carleton
Kody is a Colorado native born and raised in Boulder County. He sought out a career in the tree industry because of the labor intensive work. He likes to get his hands dirty and feel accomplished at the end of the day, and tree work provides all of that. Kody's favorite thing about the tree industry is the camaraderie between him and his fellow co-workers. He is known around the crews as "feather fingers" for technique and ability in rigging and for making it all look so easy.
Richard "Richie" Weit
Favorite Tree: American Elm
Richard "Richie" Weit
ISA Tree Worker Specialist
Richard "Richie" Weit is an accomplished arborist, biologist and photographer from Rochester, New York, relocating to Colorado in 2020. He has a great level of passion for the environment and wildlife, which lead him to a career in arboriculture. Richie has a wealth of knowledge in media and great understanding of how to capture the art of arboriculture. As a crew leader he finds tree care highly rewarding and that it provides a space where he can continue to gain further knowledge and skills while continuing his already developed dexterity.
Harrison Winrow
Favorite Tree: Japanese Maple
Harrison Winrow
Harrison has been monkeying around in the trees since he was a little boy, but only started a true pursuit in arboriculture during the spring of 2020. Moving to Colorado from New Hampshire, as well as the transition from rock to tree climbing has created awesome exposure to new rope access techniques, gear, knots, vocabulary and mental fortitude.
There is always more to learn.
Austin Hartline
Favorite Tree: Black Alder
Austin Hartline
From Bolingbrook Illinois, Austin received a degree in greenhouse management and directed operation in production greenhouses for a large portion of his professional career, but being outdoors is what truly drives him. Shortly after relocating to Fort Collins Colorado, Austin joined the Blue River team and is thrilled to bring his passion for plants and trees to the Plant Healthcare department. He always looks forward to educating and guiding others. In his free time he enjoys spending time fishing, hiking, camping, and relaxing with his family and friends.
Timothy "TJ" Brennan
TJ started his career in the green industry in his home state of Massachusetts before the rock climbing culture of Boulder, CO called to him. TJ spent years setting and developing routes before taking his climbing experience into the tree world. With his deep love for climbing and detailed work, arboriculture was a perfect fit. TJ has a passion for continuing education and the sciences, and has recently integrated into the plant health care program.
Jared Airola
Favorite Tree: Giant Sequoias
Jared Airola
Jared is a Colorado native, spending the last 7 years as a wildland firefighter, traveling the country, and protecting our natural resources. He's no stranger to hard work, and likes working outside and with his hands, so his career shift into arboriculture was a natural choice. When you are a wildland firefighter, you also need to be a chainsaw mechanic and years in the field allowed Jared to hone his skills and become an expert. As part of the Blue River team he spends his "ground" time, sharpening, repairing or rebuilding chainsaws, as a well maintained chainsaw is paramount for great tree work.
Dominic Fama
Favorite Tree: Coastal Redwood
Dominic Fama
Dominic is a California native who grew up climbing Oaks and Redwoods. He's not saying he moved because of the Pacific Poison Oaks, but he sure is happy that Colorado doesn't have them. Dominic pursued his career in arboriculture because he loves the teamwork in the field and the technicality of problem solving off the ground. Arboriculture provides Dominic with new challenges everyday, and there is always an opportunity to learn new skills and sharpen old ones.
Alec Pacella
Favorite Tree: Cottonwood
Alec Pacella
After completing a degree in Natural Resource Technology, Alec chose a career in arboriculture, specifically in the plant health care and IPM program, to combine his passion for caring for and preserving trees, with his aptitude for diagnosis and documentation. He is a Colorado native, trying everyday to make the world a better place.
Excellent Tree Services For Boulder County's Urban Forest
At Blue River Forestry & Tree Care, we love trees and are committed to the health and care of yours! We offer all aspects of arboriculture, including tree trimming and pruning, tree removal, cabling and bracing, tree planting, Emerald Ash Borer consultation and treatment, plant health care services, and forestry services.
We are fully insured and employ ISA Certified Arborists. We have the machinery, experience, and staff to manage all of your tree care needs, and provide tree care services to Boulder, Colorado, Broomfield, Louisville, Lafayette, Longmont, and Erie.
Tree Care is the Root of our Passion and the Foundation of Our Company
Call Blue River Forestry & Tree Care for a Thriving Urban Forest (720) 256-9056