Trusted and Local Professional Solutions
As every resident knows, Erie, Colorado, is home to vibrant open spaces and quickly growing neighborhoods. With the awe-inspiring Front Range on the horizon and thriving landscapes in our backyards, we're fortunate to live in some of the most stunning nature in the country.
If you're looking to improve the beauty and ecological value of your own property, the certified arborists at Blue River Forestry & Tree Care can help. We work with both homeowners and businesses across Boulder and Weld Counties to create and maintain the healthy and beautiful landscapes for which our area is known.
Committed to the Beauty of Our Local Landscapes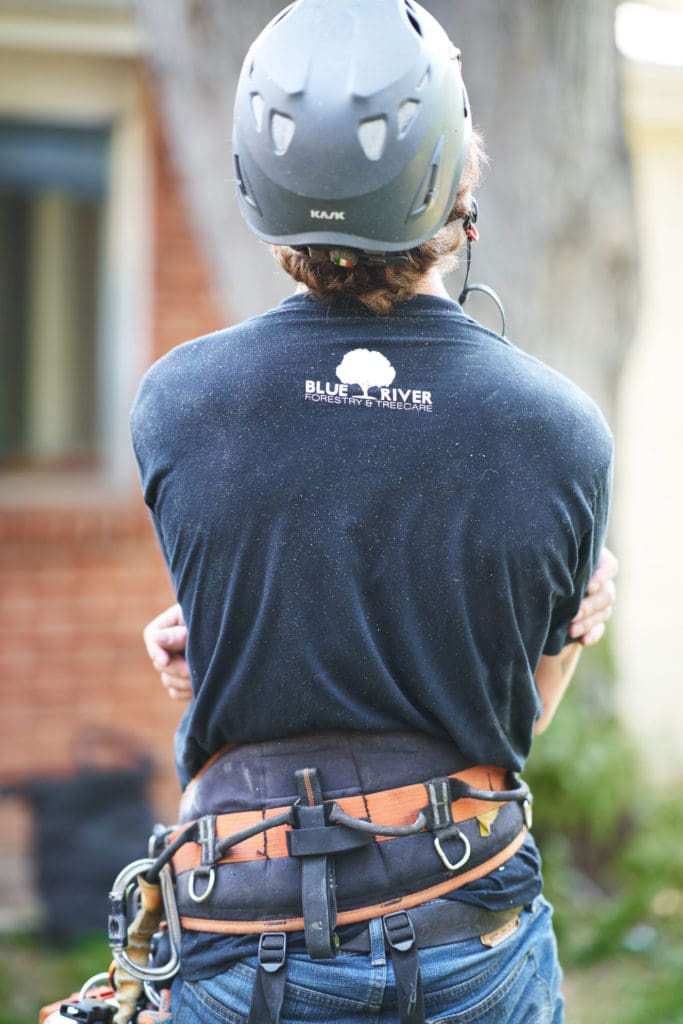 Wide-open spaces, Colorado sunshine, and easy living are a big draw for people to move to Erie. The city is serious when it comes to creating a beautiful town through its trees and landscaping. Erie is proud to be a Tree City USA® participant, meaning the town has been recognized for the stellar management of its urban forests. Erie also offers Tree Incentive Programs for residents, schools, and non-profits, and is involved with the Colorado Tree Coalition.
As home and business owners in Erie, we have the opportunity to further our city's commitment to our trees on our own private properties. In addition to helping the environment, trees can add value to your Erie property and, when properly planted and maintained, will provide enjoyment and beauty for generations to come. Understanding the unique conditions of your landscape and choosing the right trees and management techniques, though, is essential. Fortunately, that's where Blue River Forestry & Tree Care comes in with our Erie arborists!
Bring Your Landscape Goals to Life
For over 20 years the hardworking and knowledgeable crew at Blue River Forestry & Tree Care has helped homeowners and business owners create beautiful landscapes with a range of gorgeous, healthy tree species. Our team of certified and licensed arborists are specialists in planting, maintaining, pruning, and caring for trees throughout Erie, Colorado, and the wider Boulder County and Weld County areas.
We cover all aspects of tree care and understand what it takes to help trees thrive in the local Erie ecosystem. Our approach to tree care is a commitment to conservation, care, and the health of Boulder County's urban forest. We achieve the highest level of arborist services through ongoing and continuous education to ensure excellence in every area.
Enlist an Erie Arborist for your Colorado Property
When you work with Blue River Forestry & Tree Care, you're working with a team dedicated to the overall health of your landscape. Our experts are certified arborists, meaning they meet standards set by the International Society of Arboriculture for their knowledge in the following:
In-depth fundamentals of tree biology
How to diagnose and treat problems that afflict trees and shrubs
Proper pruning and growth management techniques
How to choose the best trees and shrubs for a particular landscape, soil or climate
Nutritional requirements and fertilization techniques to keep trees and shrubs in peak form
Recognizing potential tree hazards
Tree climbing techniques and tools related to the trade
Proper tree cabling techniques
We view arboriculture as a combination of art and science, which allows us to consider both the aesthetic and ecological value of your landscape. Though we're often brought in for temporary measures such as pruning or planting, we specialize in building long-term relationships with our clients in order to give your property the ongoing care and attention it deserves.
Take advantage of a comprehensive property audit, in which we establish the location and health of every tree and shrub on your property. From there, we can create and carry out a personalized plan for your landscape based on your tree needs and goals, from planting new trees to mitigating damage from insects or disease. We also offer ongoing tree care contracts to provide long-term maintenance. These are fully customizable to fulfill your management and budgetary needs and represent an investment in your property's future.
Complete Tree Care Professionals in Erie, Colorado

In addition to Erie arborist consulting, Blue River Forestry & Tree Care offers preventative services against the unique threats our Colorado landscapes face, from insects to wildfires. We provide safe and effective preventative measures against infestations like emerald ash borer, and we can take the necessary steps to reduce the spread of this insect if trees on your property have already been affected.
We also offer emergency services in the case of damage from severe weather any time of the year. Whether summer thunderstorms or winter snowfall, our team will provide prompt service to restore your property to safety.
Gain professional insight into the ecological health and potential of your property with a tour from one of our arborists. Offered to homeowners, HOA board members, and property managers, this service can alert you to any possible hazards on your property, in addition to letting you know the current state of your landscape prior to planting, construction projects, or buying and selling.
The complete range of tree care services at Blue River Forestry & Tree Care include the following:
Fire Mitigation
Land Clearing
Arborist Consulting
Bracing and Cabling
Construction Preparation and Damage Assessment
Routine Tree Care
And much more
Preserving Our Urban Forests in Boulder and Weld Counties
Blue River Forestry & Tree Care is proud of the work we do to protect and maintain our local landscapes. Trees are our passion, and we bring that dedication to every job. You can rely on timely responses, competitive proposals, and a steadfast commitment to your satisfaction and your property's health. In addition to our Erie arborists, we also provide services in Boulder, Broomfield, Berthoud, Louisville, Lafayette, and Longmont.
When you work with Blue River Forestry & Tree Care, you're working with safety-oriented professionals who will respect your property, your time, and you. Contact our team today to get started making your landscape goals a reality.
TREE CARE SERVICES FOR ERIE COLORADO'S URBAN FOREST
At Blue River Forestry & Tree Care, we love trees and are committed to the health and care of yours! We offer all aspects of arboriculture, including: tree service, tree trimming and pruning, tree removal, stump removal, Emerald Ash Borer consultation and treatment, and plant health care services.
We are fully insured and employ ISA Certified Arborists. We have the machinery, experience, and staff to manage all of your tree care needs, and provide tree care services to Boulder, Colorado, Broomfield, Louisville, Lafayette, Longmont, Erie, and Berthoud.
Are your Trees in Tip-Top Shape?
Call for a no obligation, free tree care evaluation, call (720) 256-9056