The Benefits of Compost Tea:
SUPPRESSION OF DISEASE
Suppression of disease causing and pest organisms
INCREASED NUTRITIONAL QUALITY
Improves nutritional quality of plants
IMPROVES SOIL STRUCTURE
Improves soil structure, water infiltration, oxygen diffusion and water retention
PREVENTS NUTRIENT LEACHING
Retains nitrogen and trace minerals through chelation, preventing nutrient leaching
MAKE NUTRIENTS BIO-AVAILABLE TO PLANTS
Makes nutrients bio-available to plants at the times and rates the plants require
DECOMPOSES PLANT & ORGANIC MATTER
Decomposes plant and organic matter and degrades toxic pesticides and other chemicals
IMPROVES OVERALL PLANT HEALTH
Produces hormones that help plants grow and stay healthy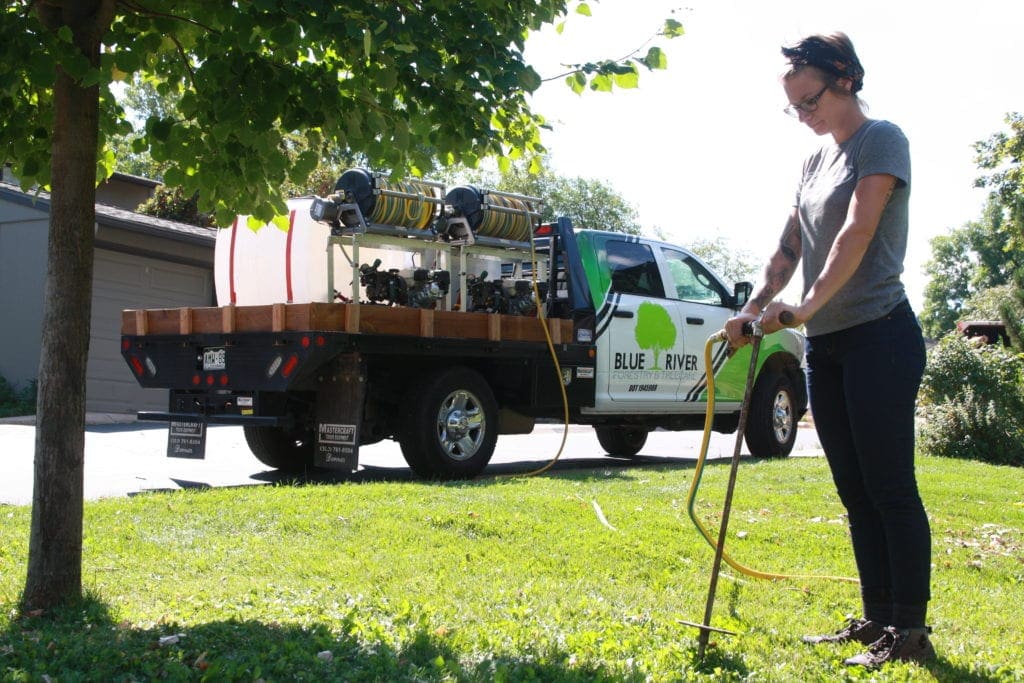 A common misconception about the function of a tree's root system is that the root system produces the food for the tree. Food production for a plant is done in the photosynthetic process which happens in the foliage. The root system of the tree is responsible for the absorption and transportation of essential minerals and water to the rest of the tree, including to the leaves to assist in photosynthesis. Roots are storage containers of energy reserves, this is why stumps of removed trees may have sucker growth. The root system is also responsible for securing the tree's space in the soil, healthy roots with ample supply of minerals and water will extend far out and deep in the soil. The healthier the soil, means a healthy root system which provides a more secure holding for the tree. In high Boulder, Colorado winds this is a must.
Compost tea is food for soil, which in return benefits the nutrient and microbe uptake in the tree's root system. The roots pipeline the essential nutrients to other areas of the tree to be used in food production. Mineral elements are the basic building blocks for new growth and cellular function. Dry weather and dry soil can result in soil compaction which decreases the availability of water, minerals and oxygen. Soil compaction can also inhibit root growth. Without oxygen the naturally occurring beneficial fungi and bacteria in the soil decrease. This is where the benefits of compost tea come in. Compost tea is made in an aerated brewer with constant oxygen and water to enhance the reproduction of the beneficial bacteria and fungi that is applied to the soil. A tree's root system can extend out past the diameter of the tree's crown, anchoring the tree while in search of minerals and water. However, soil compaction can inhibit root system growth, therefore creating shortened fine roots, leaving our trees vulnerable to uprooting in the high Colorado winds. This is why it is important to not only treat the immediate area around the base of the tree, but to also apply the compost tea around a large surface area.
Compost tea is made to replenish the soil and act as a natural fertilizer to restore balance to the soil environment. It does not over nourish or push a large amount of one nutrient. Nitrogen for instance in compost tea is organically bound and therefore released slowly in the soil, mimicking the soil's natural process. A slow growth rate will help the tree maintain healthier and stronger foliage, as well as sturdy roots.
There are many benefits of compost tea including increasing the tree's ability to fight off pest and diseases. The beneficial organisms in compost tea will prevent disease causing organisms from finding the tree by protecting any infection sites. The trees treated with compost tea will retain more water as nutrient rich soil has improved water retention. This benefit is especially important in Boulder, where we can go weeks without rain water. Compost tea is a wonderful solution to enriching your soil, improving your trees overall vitality and to keeping Boulder "green."
Excellent Tree Services For Boulder County's Urban Forest
At Blue River Forestry & Tree Care, we love trees and are committed to the health and care of yours! We offer all aspects of arboriculture, including tree trimming and pruning, tree removal, stump grinding, tree planting, Emerald Ash Borer consultation and treatment, plant health care services, forestry services, tree cabling, land clearing, certified arborist, aerated compost tea, fire mitigation, routine tree care, land clearing, and much more.
We are fully insured and employ ISA Certified Arborists. We have the machinery, experience, and staff to manage all of your tree care needs, and provide tree care services to Boulder, Colorado, Broomfield, Louisville, Lafayette, Longmont, Erie, and Berthoud.
Get a Free Root-to-Crown Check-Up for Your Trees
Call for a no obligation, free tree care evaluation, call (720) 256-9056