Tree Branch Removal and Structural Support Systems
Whether from a thunderstorm's damage or a structural defect, a tree occasionally needs extra support to continue healthy growth and to avoid posing a threat to both people and property. At Blue River Forestry & Tree Care, we offer tree cabling and bracing services throughout Boulder County to keep our landscapes safe and vibrant.
Our team of professionals has worked to preserve and maintain our Front Range urban forests for over 20 years. Homeowners and business owners alike rely on us for expert tree care driven by a passion for our local trees. From cabling and bracing to tree branch removal in Boulder, Colorado, Blue River Forestry & Tree Care is your qualified tree care solution.
Protect Your Boulder Property with Tree Cabling and Bracing
Trees may require cabling or bracing for a number of reasons. Often, trees with split or multiple trunks will require support to prevent them from growing too far apart and straining the tree's structure. With older trees in particular, branches may become too heavy for the trunk to support, and cabling or bracing will be necessary to distribute the weight in a safer way and prevent undue stress on the tree. Without this support, you risk a tree cracking or a limb breaking, which could fall and damage the surrounding landscape and buildings — not to mention anybody standing nearby.
Tree cabling and tree bracing support systems are used to provide supplemental support to leaders and individual branches by limiting movement. When a tree has a structural defect or condition that poses a possible risk of failure and could result in injury or property damage, a supplemental support system such as tree cabling or tree bracing can often reduce the risk.
If you have a tree on your Boulder County property that you think may need cabling or bracing, Blue River Forestry & Tree Care can help. Our arborists will conduct a thorough inspection and evaluation of your tree to determine its condition. If it is an appropriate candidate for cabling or bracing, they will perform that service with minimal impact to the surrounding property. Safety is our top priority, and you can trust our team to utilize the latest tools and techniques for the ongoing health of your entire landscape.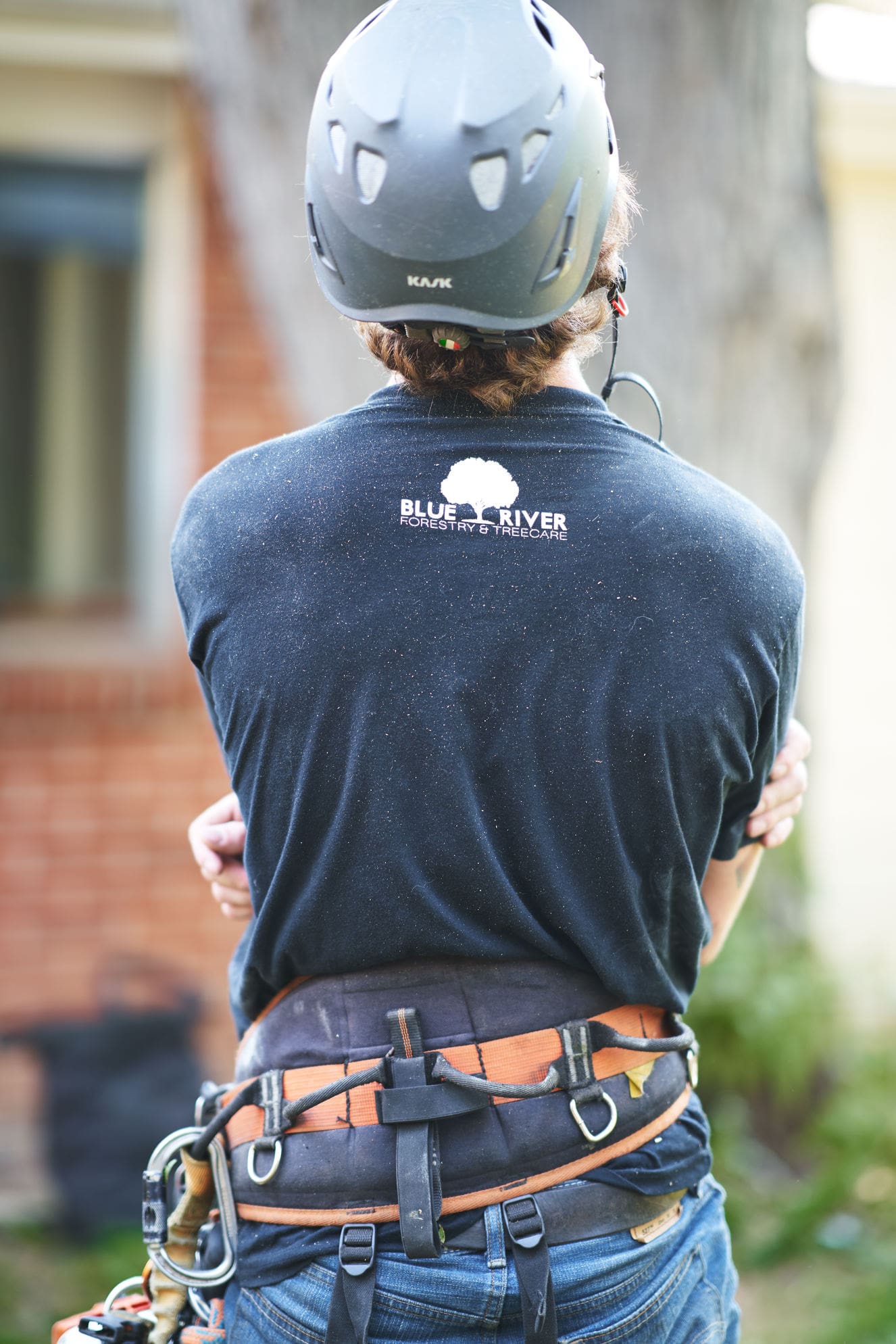 There may be cases when cabling or bracing is not the proper solution. For example, if a tree limb is at a high risk of failure, diseased, and/or otherwise not a good candidate for cabling or bracing, tree branch removal may be the only option. In that case, our team will remove the affected limb efficiently and effectively to preserve the health of the rest of the tree.
Keep Your Trees Safe with Licensed Arborists
When determining whether a tree needs additional support, it is important to enlist a licensed and certified arborist who understands the potential problems your tree may face. The arborists at Blue River Forestry & Tree Care have been certified by the International Society of Arboriculture, meaning they meet rigorous standards for their tree care knowledge. This knowledge spans fundamental tree biology, how to diagnose growth problems, and proper cabling and bracing techniques, among other areas. They also meet local licensing standards and are continually improving their knowledge through ongoing education to bring you the most modern and effective tree care methods.
Supplemental structural support systems should only be installed based on a thorough inspection and evaluation of tree structure by an ISA-certified arborist. At Blue River Forestry & Tree Care, we will carefully assess the condition of your tree to determine if a structural support system would benefit your tree's health. Factors such as overall health, vitality, severity of the situation, and the structure of the tree all will be taken into consideration.
The objective of cabling and bracing is to provide supplemental support in order to limit splitting and lengthen the life of the tree. It is important to understand that this support is intended only to reduce the risk of hazards. It does not permanently remedy structural weaknesses in your tree, and it is not a guarantee against failure. Any tree cabling or bracing also requires periodic inspection by an ISA-certified arborist to ensure its ongoing safety and effectiveness.
Achieve Your Property Goals with Comprehensive Tree Care Services
In addition to tree cabling, bracing, and tree branch removal in Boulder, Colorado, Blue River Forestry & Tree Care offers a complete range of landscape services:
We also offer emergency services in the case of a storm or other crisis. From clearing downed limbs to assessing a damaged trunk, our team will respond promptly to address any hazards and restore your peace of mind.
We specialize in long-term relationships with our clients to better ensure the health of our community landscapes into the future. Whether we're returning to your property to inspect a tree's cabling or carrying out an ongoing tree care contract through trimming and nutrition, we look forward to working with you again and again to preserve your property's safety, beauty, and ecological value.
Your Local Tree Care Professionals
Our professional arborists are fully insured and committed to your satisfaction with every job. We're passionate about trees, and we combine that passion with a deep knowledge of arboriculture and the local environment to preserve and maintain the unique natural beauty of the urban forests in Colorado's Front Range. We recognize the necessity of providing safe and effective care for our local trees, and we utilize environmentally friendly techniques to promote the overall health of all our area ecosystems.
Blue River Forestry & Tree Care provides services throughout Boulder and the surrounding counties, including the cities of Longmont, Lafayette, Berthoud, Louisville, Broomfield, and Erie. Contact our team today for your own tree cabling and bracing needs, and let us help you keep your landscape safe and healthy for years to come.
Excellent Tree Services For Boulder County's Urban Forest
At Blue River Forestry & Tree Care, we love trees and are committed to the health and care of yours! We offer all aspects of arboriculture, including tree trimming and pruning, tree removal, stump grinding, tree planting, Emerald Ash Borer consultation and treatment, plant health care services, forestry services, tree cabling, land clearing, certified arborist, aerated compost tea, fire mitigation, routine tree care, land clearing, and much more.
We are fully insured and employ ISA Certified Arborists. We have the machinery, experience, and staff to manage all of your tree care needs, and provide tree care services to Boulder, Colorado, Broomfield, Louisville, Lafayette, Longmont, Erie, and Berthoud.
Get a Free Root-to-Crown Check-Up for Your Trees
Call for a no obligation, free tree care evaluation, call (720) 256-9056