Exceptional Tree Care Services in Broomfield, Colorado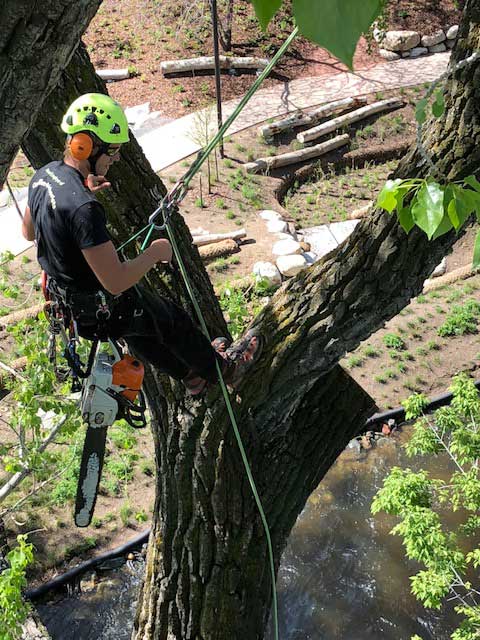 At Blue River Forestry & Tree Care, we provide all aspects of tree care to our community in Broomfield, Colorado. Whether you need to maintain the health of your current trees, add or change the plants on your property, or if you need emergency services, our ISA Certified Arborists have the skills and training to keep your part of our urban forest healthy and safe. Our Broomfield arborists can diagnose problems, identify potential hazards, and suggest improvements to ensure the proper, healthy growth of your trees.
Looking for a Broomfield arborist? Look no further.
Blue River Forestry & Tree Care, Your Broomfield Arborist
Broomfield, Colorado, has a true heart for trees. With over 8,000 acres of open lands and numerous parks and greenbelts, it's easy to see our area's dedication to the outdoors everywhere you look. There are 160 different species of trees growing in Broomfield's parks, and 450 trees grow in Community Park alone. At Blue River Forestry & Tree Care, we share this love for arboriculture. We know how our urban forest affects both our communities and our individual lives—that's why our certified arborists are proud to help your trees survive and thrive in Boulder County's diverse environment.
Our area in Broomfield, CO has recently become part of the nationwide emerald ash borer infestation. Considered one of the most destructive forest pests in the history of North America, this invasive beetle species feeds on ash trees and will only continue to spread without proper treatment. We offer consultations to help you determine what is the best course of action for your Ash tree and offer systemic injections for prevention and treatment and safe and efficient tree removal if necessary.
Complete Services for Safe, Healthy Tree Care
Not sure where to start when it comes to caring for the trees on your property? Our ISA Certified Arborists perform root-to-crown check ups, so you can know about any problem areas that could lead to potential hazards. Once the diagnosis is made, our experienced professionals can make sure your trees are safe and healthy and your property is as safe as possible from tree-related hazards. Our broad range of services covers every aspect of tree care.
Our services include:
Fire Mitigation
Land Clearing
Arborist Consulting
Bracing and Cabling
Construction Preparation and Damage Assessment
Routine Tree Care
And much more
ISA Certified Broomfield Arborist: Providing the Best for Your Urban Forest
Because we value continuing education and the level of service we provide for our Boulder County community, Blue River Forestry & Tree Care employs ISA Certified Arborists. Given by the International Society of Arboriculture, this designation sets strict standards for the certification of arborists, including:
A thorough understanding of the fundamentals of tree biology
Knowledge on diagnosing and treating problems affecting trees and shrubs
Demonstration of proper techniques for pruning and growth management
Knowledge of which trees and shrubs are best of a particular landscape, soil, and climate
Knowledge of nutritional requirements and fertilization techniques to keep plants in their best form
The ability to recognize potential tree hazards
Proper tree cabling techniques
Tree climbing techniques and related tools
We are committed to providing the best service available because we value our urban forest here in Boulder County. If you're looking for a Broomfield arborist, call Blue River Forestry & Tree Care to give your trees the care they need and protect your surrounding environment.
TREE CARE SERVICES FOR BROOMFIELD COLORADO'S URBAN FOREST
At Blue River Forestry & Tree Care, we love trees and are committed to the health and care of yours! We offer all aspects of arboriculture, including: tree service, tree trimming and pruning, tree removal, stump removal, Emerald Ash Borer consultation and treatment, and plant health care services.
We are fully insured and employ ISA Certified Arborists. We have the machinery, experience, and staff to manage all of your tree care needs, and provide tree care services to Boulder, Colorado, Broomfield, Louisville, Lafayette, Longmont, Erie, and Berthoud.
Are your Trees in Tip-Top Shape?
Call for a no obligation, free tree care evaluation, call (720) 256-9056