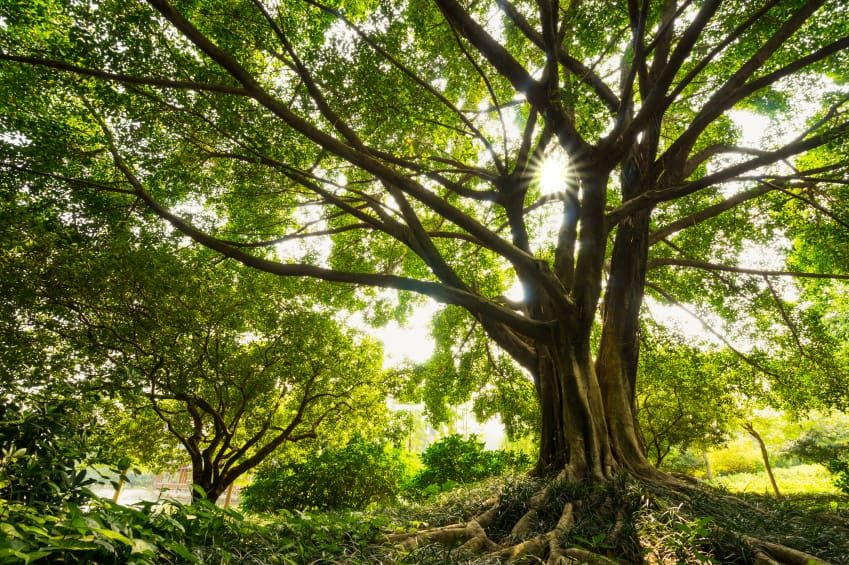 As everyone who has ever tried to garden knows, plant health care is important to keeping green spaces vibrant, thriving, and happy. Generally, the healthier a town's green spaces, the healthier its people - and the more inviting and appealing it is to visitors. Boulder, Colorado is lucky to have a lush and beautiful urban forest, and we want to do our part to help take care of it.
At Blue River Forestry & Tree Care, we understand that our entire ecosystem - both natural and urban - is interwoven through beautiful natural relationships. Our approach to plant health care is based on a deep knowledge of plants and their surroundings.
It is our mission to use the most environmentally safe and effective practices to maintain harmony within these relationships.
Preventative Care
We take a protective and nurturing approach to preserving the beauty and health of your Boulder, CO landscape. This area is home to a variety of native plant species, as well as plants that were introduced by gardeners, landscapers, and homeowners throughout the city. We want to make sure all of them stay healthy long-term by preventing diseases and infestations before they start.
Our ISA certified arborists can help you develop a plan to prevent plant and tree disease and increase the vitality of your unique landscape. We offer many important plant health care services like compost tea soil amendments, mulch rings, and drought prevention plans, among others. Everything we do is intended to keep your plants healthy, vibrant, and disease resistant.
Pest Control And Disease Diagnosis
Like all living things, plants are susceptible to disease and infestation. Luckily, the preventative measures that we take can all but eliminate the threat of disease and pests. Sometimes, however, problems can still arise.
In these cases, we offer safe and effective treatments to address and prevent future problems. We are focused on sustainability, and do our best to work in harmony with the natural environment. One of the ways we accomplish that goal is by using environmentally friendly treatments that manage disease and pests, while also protecting beneficial insects and preserving the natural ecosystem.
Our ISA Certified arborists carefully evaluate every situation before prescribing a treatment. From soil and root health to the top of the canopy, they'll find the best possible solution and then create an ongoing plant health care plan for your Boulder, Colorado property.
Emerald Ash Borer Treatment
Emerald ash borer is the latest invasive pest to migrate to Colorado. It's an Asian species that made its way to America around 2002, and these beetles have no natural predators to help contain them. Considered one of the most destructive forest pests in the history of North America, the emerald ash borer population will only continue to grow without the proper management.
If you have ash trees, give us a call! Unfortunately question of if, but when your tree will be infested with emerald ash borer. If your trees have not been infested yet, we'll take steps to prevent this beetle from invading. If your trees have been affected by emerald ash borer already, we'll evaluate the situation and take the best possible course of action to prevent them from spreading and, if possible, save your tree.
Aerated Compost Tea
You may be wondering: what on earth is aerated compost tea? The answer is: essentially a nutrient-packed, probiotic-rich health drink for your trees and plants!
Aerated compost tea is a solution that combines important bioavailable nutrients with a microherd of beneficial organisms to promote soil restoration, root health, and overall tree vitality. We've seen amazing results from our compost tea solution, and will continue to use it to help the trees in Boulder County stay healthy and beautiful for years to come.
Other Tree Services We Offer In Boulder County
We love being involved in keeping Boulder, Colorado's many green spaces healthy and happy. Plant health care is vital to the health and safety of our urban forest, but it's only part of the big picture. We offer a wide variety of services to keep all aspects of your living landscape healthy, happy, and thriving, including:
Construction Preparation and Damage Assessment
And much more
If you don't see a service you need listed above, please give us a call anyway! Our certified, experienced arborists would be happy to stop by and see what they can do to help your green spaces stay healthy.
Excellent Tree Services For Boulder County's Urban Forest
At Blue River Forestry & Tree Care, we love trees and are committed to the health and care of yours! We offer all aspects of arboriculture, including tree trimming and pruning, tree removal, stump grinding, tree planting, Emerald Ash Borer consultation and treatment, plant health care services, forestry services, tree cabling, land clearing, certified arborist, aerated compost tea, fire mitigation, routine tree care, land clearing, and much more.
We are fully insured and employ ISA Certified Arborists. We have the machinery, experience, and staff to manage all of your tree care needs, and provide tree care services to Boulder, Colorado, Broomfield, Louisville, Lafayette, Longmont, Erie, and Berthoud.
Get a Free Root-to-Crown Check-Up for Your Trees
Call for a no obligation, free tree care evaluation, call (720) 256-9056