We Can Help You Meet Your Tree and Landscape Goals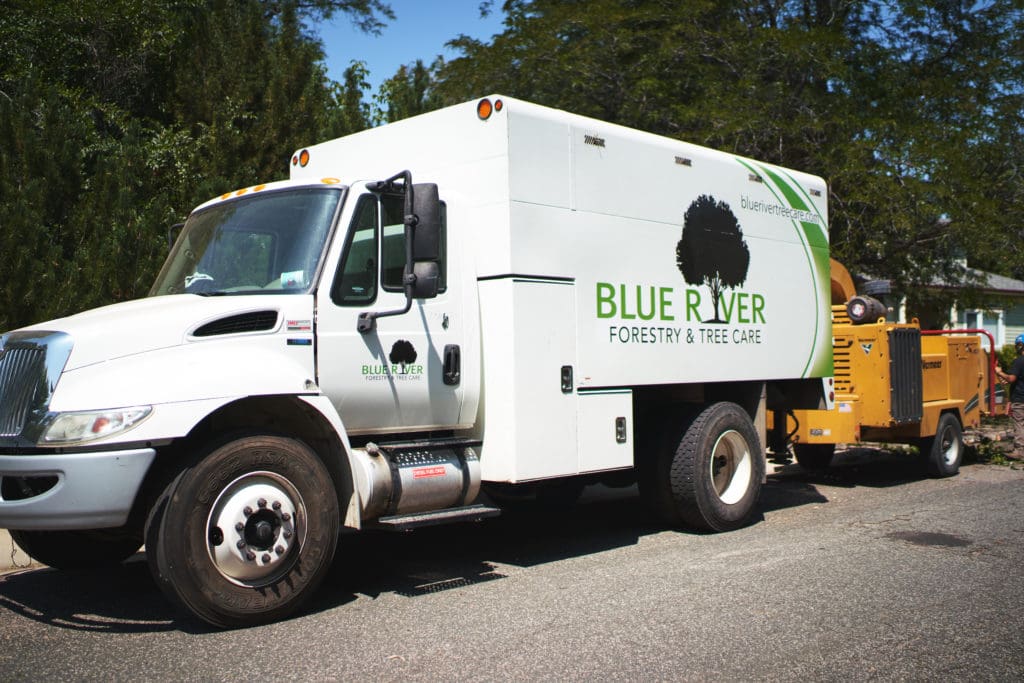 If you have questions about your trees and landscape, Blue River Forestry & Tree Care is here to help. Our ISA certified arborist consultants are experts in all things tree- and plant-related, and we have a longstanding passion for promoting the health and beauty of Boulder County's landscapes.
Arboriculture is both an art and a science, and we're proud of the work we do in planting, caring for, and maintaining our area's trees. 
From identifying the optimal trees for your property's soil, to managing their growth through pruning and fertilization, to diagnosing and treating any problems, our team can help to ensure you have a healthy and vibrant landscape that you love for years to come. Though we're here for whatever temporary concerns you may have, we strive to build long-term relationships with our clients in order to better preserve the health of your property moving forward.
What an ISA Certified Arborist Can Do for You
Our arborists at Blue River Forestry & Tree Care are certified by the International Society of Arboriculture, which means they are highly educated and trained to industry standards in all aspects of professional tree care. They also meet local licensing standards to ensure the safety and professionalism of our work in the Boulder County community. Backed by these credentials, our arborists can help you achieve your landscape goals through their expertise in the following:
Fundamentals of tree biology

Selecting the proper trees and shrubs for a particular climate, soil, or landscape

Nutrition and fertilization techniques for optimal plant health, such as aerated compost tea

Pruning and other growth management practices
In addition to helping you create the optimal landscape for your property, our certified arborists are also trained to address the various problems that may arise, including:
Diagnosing and treating plant diseases and insect infestations, including emerald ash borer

Identifying potential tree hazards and threats

Safely operating tools related to tree removal, when needed

Proper tree cabling and bracing techniques
When you work with Blue River Forestry & Tree Care, you're working with dedicated professionals who are committed to preserving the aesthetic and ecological value of your property. 
Often, our team of arborists is brought in for standard preventative care like tree pruning and trimming, in which case our experts will adapt their methods to your specific trees and environmental conditions for maximum benefit. This practice is essential to the overall health of your landscape and helps to promote growth by removing dead, dying, or diseased branches, improving the structural development of young trees, and restoring vitality to more mature trees.
Other times, clients may seek a more comprehensive tree management plan, in which case we'll begin with a property audit to establish the location and condition of every tree and shrub grouping on your property. From there, we'll work together to establish a plan to meet your landscape goals, whether that's developing better maintenance for the trees you have, planting new ones, or removing any afflicted by insect or disease.
Our teams also include Qualified Supervisors who have been licensed through the Colorado Department of Agriculture. They bring an additional level of expertise and oversight gained through specific on-the-job experience requirements and rigorous testing. They ensure we're complying with laws and environmental safety concerns every step of the way, especially when it comes to pesticide application, so you can rest assured that the long-term health and integrity of your property will be maintained.
Other ISA Certified Arborist Services for Boulder County Properties
Blue River Forestry & Tree Care provides pre- and post-construction evaluations, which help to mitigate damage to your trees and shrubs during a construction project. From determining how to minimize the effects on your landscape to facilitating any necessary tree removal, we can ensure a smoother and more efficient development and construction process.
We also offer ongoing tree care contracts for the long-term maintenance of your landscape. These contracts are fully customizable to meet your property's unique management and budgetary needs. Our team will work with you to establish a plan that meets all your tree concerns, from preventing disease and insect infestations to maintaining tree cover for generations to come.
Our certified arborist consultants are also equipped to provide property tours to property managers, HOA Board members, and individual homeowners. These tours can provide insight into the current ecological state of the property, the potential for other trees and shrubs, and any possible hazards. Communicating this information to the various property stakeholders in a clear and effective way can help to clarify the needs and goals for a particular property, and we're happy to bring people together on the planning process.
Professional Solutions for Your Boulder County Trees and Landscape
At Blue River Forestry & Tree Care, we're at the forefront of an increasingly vital industry that is responsible for the ongoing health of our urban forest and private landscapes. Our team is committed to providing the best possible care and maintenance for your trees, and that dedication is the driving force behind everything we do. Tree care is more than just a job for us — it's a passion, and we're honored to work every day to enhance the living landscape in the communities that surround us.
From a full-service certified arborist consultation to grinding and removing stumps, we offer a range of services to meet all your tree needs. We also offer safe and effective treatments to address and prevent tree diseases and insect infestations such as emerald ash borer and provide emergency services in the case of damaged trees or limbs in the wake of a Colorado snowstorm.
Invest in your landscape and its future by contacting Blue River Forestry & Tree Care today. Our professional team of certified arborists will help you realize your property goals and preserve the ecological and aesthetic value of your trees and shrubs. We're excited to serve customers throughout Boulder County, including the cities of Boulder, Berthoud, Broomfield, Louisville, Lafayette, Longmont, and Erie.
Excellent Tree Services For Boulder County's Urban Forest
At Blue River Forestry & Tree Care, we love trees and are committed to the health and care of yours! We offer all aspects of arboriculture, including tree trimming and pruning, tree removal, stump grinding, tree planting, Emerald Ash Borer consultation and treatment, plant health care services, forestry services, tree cabling, land clearing, certified arborist, aerated compost tea, fire mitigation, routine tree care, land clearing, and much more.
We are fully insured and employ ISA Certified Arborists. We have the machinery, experience, and staff to manage all of your tree care needs, and provide tree care services to Boulder, Colorado, Broomfield, Louisville, Lafayette, Longmont, Erie, and Berthoud.
Get a Free Root-to-Crown Check-Up for Your Trees
Call for a no obligation, free tree care evaluation, call (720) 256-9056