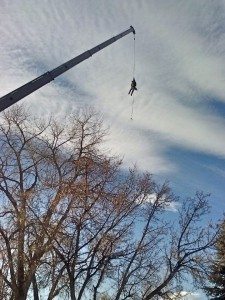 The Cottonwood tree leaning over your house has kept worry at the back of your mind for too long now.
You keep pondering if one of these high Boulder winds is going to bring your tree crashing down on your house.
Your next worry is, how can this tree be removed safely?
Crane removals are becoming more common in the tree care industry for exactly this reason; safety!
Not only does the assistance of the crane make the removal-time more efficient, the crane also eliminates falling limbs and wood pieces. The crane allows for the removal of large pieces of wood off the property without foot traffic from hauling brush and debris.
There are advantages to using a crane. Quite often, if crane assistance is possible, it will reduce the price of your removal.
The only way to know if your tree removal is possible with crane assistance is to meet with an ISA certified company, with crane assistance experience.
Crane removals are highly technical and should only be done by a skilled, knowledgeable professional.
Please visit our homepage to see a crane removal time lapse video done by our very own highly skilled certified Arborist and owner of Blue River Forestry & Tree Care, Dustin Brown RM #2444A.