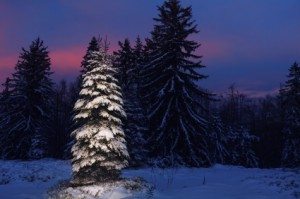 The holiday season is upon us, and even though our beautiful Colorado weather is still warm and sunny, the trees have now dropped their leaves and begun their journey into winter.
With Thanksgiving just a day away, we begin to ponder the ingredients of our lives which we are thankful for. The pre meal, clockwise, table turns of thankfulness for health, loved ones and wonderful children, for the turkey, the pie and the sweet blueberries of life. As our turn at the table approaches we would like to send out our deepest gratitude and appreciation for trees, all trees, all species.
I lived in Breckenridge, Colorado for some time and sometimes through the hustle and bustle of life, one forgets how beautiful a place really is. As I hurried the children about, in and out of carseats and through the crowded streets, I overheard a young woman. I guess it wasn't overhearing as she was yelling at the height of her lung capacity, "It's like the world is breathing, and I can see it!" I stopped dead in my tracks, needing to experience what she was witnessing. I looked to her and then followed her gaze as she admired and became completely engulfed as she stared over the frost covered mountain of trees, glistening as though they were sprinkled at the tips with diamonds.
The sun was hitting the snow on the tips of the trees, it looked like a valley of twinkling Christmas trees and the sight alone took my breath away. Trees bring the world simple, natural beauty, and are a breath of fresh air, as they are living, breathing elements that stand to remind us that the earth really does breathe. I am thankful for the beauty trees bring to this world.
On top of just being beautiful and regal, trees bring us so much more to be thankful for. Trees create oxygen, and absorb air pollutants. Their leaves filter the air we breathe, and they take part in creating a better ozone. The saying goes, "Plant a tree today, for a better tomorrow." The more trees we have the better air we breathe, so let's give thanks to trees…the world's natural air filters.
What would a park be without trees? Not really a park at all. Trees create community. They make a place of gathering feel welcoming. We gather in their shade for picnics, use their branches for our children's swings, make pies for Thanksgiving from their fruits. They are in every part of our lives.
These are just a few among many things trees give us. They provide shelter for animals and people alike. They create shade for our homes, hold soil in place, act as wind breaks and create privacy at our homes. The possibilities are endless, and our thanking of the trees should be as well.
Taking care of your trees with proper arboriculture methods like pruning to prevent storm damage and to promote healthy new growth will help your trees keep on giving.
Request a free estimate today to have your tree's health evaluated and see how you can give back to your trees this holiday season.