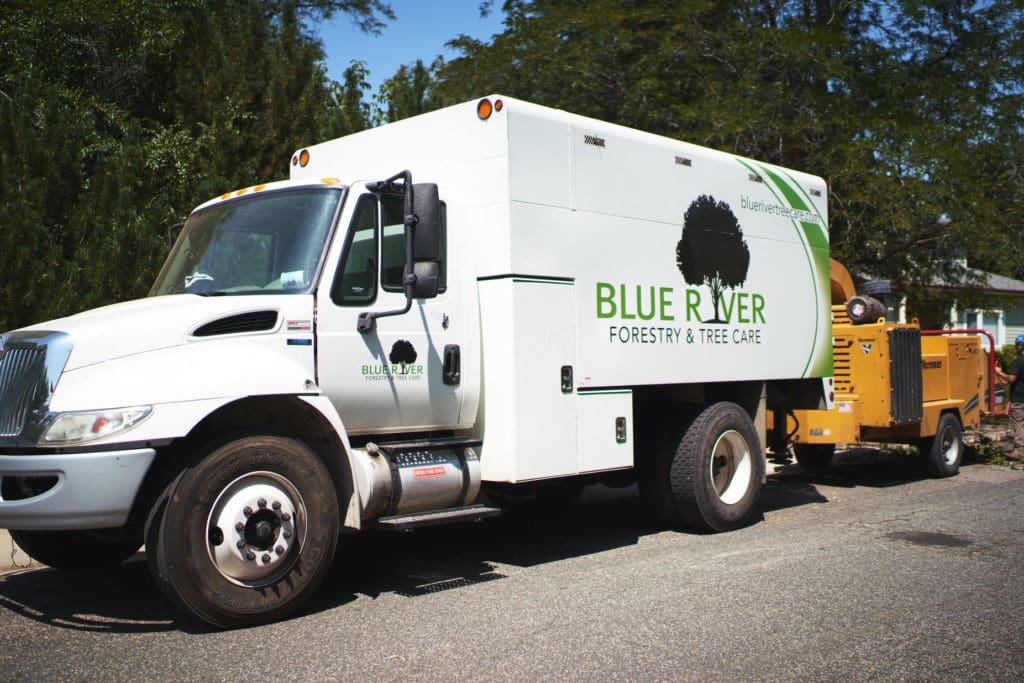 With its rural feel and small-town charm, it's no surprise that Erie, Colorado is considered by many to be such a great place to live. Visitors and locals alike enjoy its downtown, as well as its relatively easy access to the greater Boulder and Denver areas. Its charm and appeal is due in part to its healthy urban forest, which contributes to its welcoming, relaxing, well-cared-for atmosphere.
At Blue River Forestry & Tree Care, we love our jobs, and are passionate about keeping Erie, Colorado's trees healthy, happy, and safe from disease and pests. We also recognize how important proper tree care is in keeping the people, pets, and property in our community safe from harm.
As ISA (International Society of Arboriculture) certified arborists, we recognize that sometimes the best thing that can happen for the health and safety of a property is tree removal. Our professionals carefully evaluate each tree before recommending an action plan.
Situations When Tree Removal is Necessary in Erie, CO
When properly cared for, trees can live for decades, providing families with a beautiful living landscape and even help boost a town's economy because of their beauty. Over time though, trees are affected by a number of different factors, from disease to injury to daily wear-and-tear.
When you suspect a tree may need to be removed from your property, our certified arborists will evaluate your tree and take into consideration a number of factors: the tree's age, species, stability, vitality, and the surrounding environment and structures. After a thorough evaluation and depending on the varying factors included, while we do everything in our power to save your tree, our professionals may recommend tree removal as the best course of action.
When most people think of tree removal, they think of the declining health of a tree. However, there are many reasons that homeowners may want to consider tree removal other than decline. Here are a few:
The tree has suffered irreparable storm damage from heavy snow, flooding, or wind
The tree is diseased or infested (for example, by emerald ash borer), and is either terminal or not a good candidate for treatment for other reasons
The tree has become dangerous to its surrounding environment, including structures or power lines, or it impedes an important line of sight
The tree is an undesirable species or size, is causing problems like overcrowding or allergies, has become a nuisance, or doesn't fit in with its surroundings' aesthetics
Emergency Tree Removal and Storm Damage Mitigation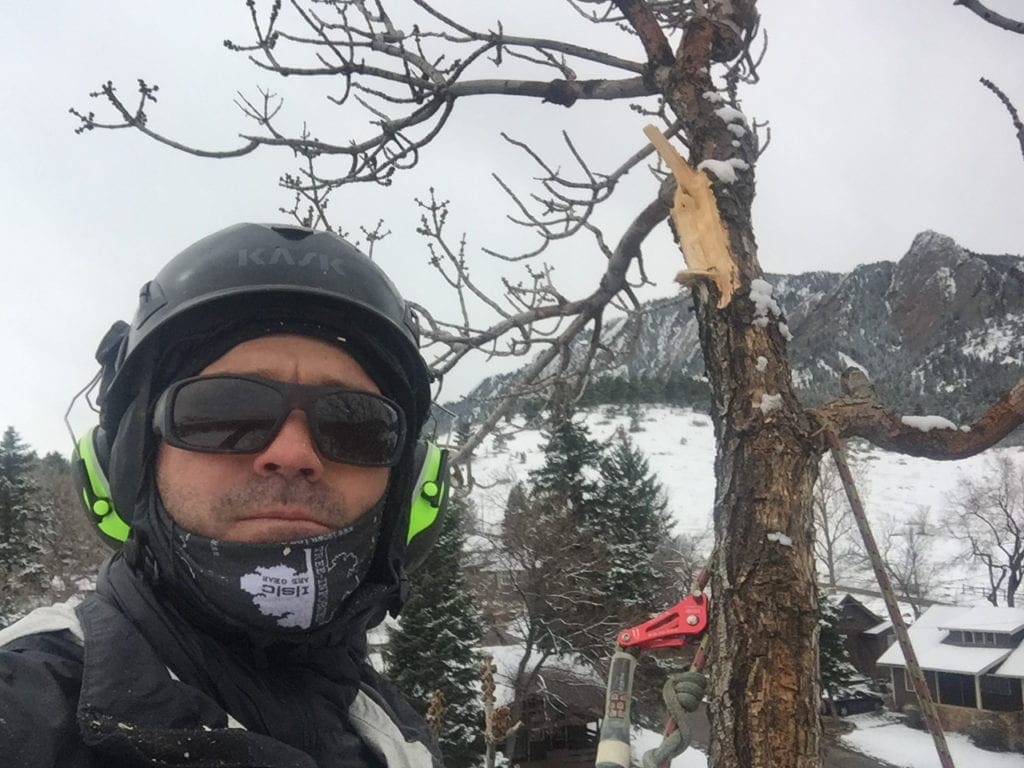 Erie, Colorado and surrounding areas are no strangers to unpredictable weather patterns. We may joke that 'if you don't like the weather, just wait 30 minutes' in Colorado and it's often true as we have seen intense hail storms in the spring to 70-degree December days.
These dramatic changes in temperature, alongside such weather events as high winds, hail, and flooding all take their toll on trees in Erie, which can lead to costly damages to your home and landscape. Trees that become unstable during a storm can pose a serious threat to you, your family, and your property if they are not evaluated and taken care of in due time. At Blue River Forestry & Tree Care, we have seen first hand the damage that Colorado's severe weather patterns causes to trees and homes, such as when heavy snow loads can break branches and even uproot entire trees.
When inclement weather strikes, it takes a professional to successfully handle the risk posed by a damaged tree. Our ISA certified arborists are here to help keep you and your property safe by evaluating the trees on your property, giving you a thorough assessment of the situation, and offering a customized plan of action.
Treating and Preventing Insects and Disease
Alongside tree removal due to bad weather, in Erie, Colorado we see another major cause of tree death is from insects or disease.
It's important to have a trained professional evaluate the trees on your property as issues from tree pests and disease often go unnoticed until it's too late. At Blue River Forestry & Tree Care, we specialize in diagnosing disease and insect infestation.
We do everything we can do help save your trees and offer treatment options when appropriate, but in the case that it's too late, we'll work with you on a tree removal plan. This is often the case when it comes to dealing with emerald ash borers:
They are considered one of the most destructive forest pests in the history of North America.
They target only ash trees, have not been contained, and have no natural predators, which means they've wreaked havoc on the ash population in Colorado and beyond.
On the Front Range, removal of damaged or dead ash trees is often the best option if you have an infected tree.
Our ISA certified arborists will work with you to determine the safest, most efficient way to remove your tree while also limiting the spread of the infestation. We're dedicated to providing high-quality, efficient emerald ash borer treatment services to protect both the overall tree health of our communities and the safety of your property.
Aside from emerald ash borer, there are many other tree pests and diseases that can afflict your trees. If possible, our certified arborists will develop a future-focused care plan for the management of disease. If treatment is not an option, we may recommend tree removal.
Cleanup, Stump Grinding, and Professional Tree Removal All-In-One
In the case of having to remove a dead or dying tree from your property, our team will take care of everything, from the removal itself to the cleanup afterward.
We provide itemized quotes that include the price of both tree removal and stump grinding, depending on your needs. Stump grinding is often the most efficient, effective way to eliminate unsightly stumps.
Attempting to remove a tree on your own or stump grinding on your own can be extremely dangerous, which is why we always recommend leaving those jobs to the professionals. Our tree care professionals are trained to recognize potential dangers (such as internal decay, rot, or cracks in the tree) and take appropriate action.
At Blue River Forestry & Tree Care, we have the skills, training, and equipment to safely remove your tree!  From shrubs to hazardous trees, we have invested in the most up to date and low impact equipment to offer our clients safe, efficient, and cost-effective tree removal.
Call us today at (720) 256-9056 to set up a no-obligation evaluation with one of our ISA certified arborists!
TREE CARE SERVICES FOR ERIE COLORADO'S URBAN FOREST
At Blue River Forestry & Tree Care, we love trees and are committed to the health and care of yours! We offer all aspects of arboriculture, including: tree service, tree trimming and pruning, tree removal, stump removal, Emerald Ash Borer consultation and treatment, and plant health care services.
We are fully insured and employ ISA Certified Arborists. We have the machinery, experience, and staff to manage all of your tree care needs, and provide tree care services to Boulder, Colorado, Broomfield, Louisville, Lafayette, Longmont, Erie, and Berthoud.
Are your Trees in Tip-Top Shape?
Call for a no obligation, free tree care evaluation, call (720) 256-9056