Call Our Team of Professionals For All Your Stump Grinding and Tree Removal Needs
If you live in Longmont, Colorado, we're sure that you understand the value of owning property in this area. So when that property is marred by leftover stumps and their accompanying headaches, you probably want them removed as soon as possible. Our stump removal services will help you clear the way for new and beautiful landscaping.
A haven for outdoor enthusiasts, Longmont, Colorado, is one of the Front Range's most beautiful communities. Named one of the Best Places to Live multiple times by CNN/Money Magazine and an All-America City by the National Civic League, it's no secret that Longmont has incredible appeal. Along with the rest of the Front Range, it's also experiencing unprecedented growth, which is causing property values to skyrocket - especially properties that are well taken care of.
Our Stump Removal Services Can Make Your Longmont, Colorado Landscape a Clean Slate
Trees live incredibly long lives and provide all sorts of benefits to humans, pets, and wildlife alike. It's always a sad occasion when you have to remove a mature tree because it's reached the end of its days. To add insult to injury, there's virtually always an ugly stump left behind.
If you've come to this page looking for stump removal services, you're probably well aware of the issues stumps present. In addition to making mowing a hassle, stumps present a safety hazard on your property and get in the way of your plans for future plantings. Luckily, our team at Blue River Forestry & Tree Care has a proven solution to all your tree stump problems: stump grinding.
Stump grinding is the most efficient and effective way to remove this obstacle from your property. This technique takes specialized equipment, experience, and safety training to do successfully. As professionals who have done this many times, we strongly encourage you to find a competent stump grinder to remove your stump: don't try to do it yourself!
At Blue River Forestry & Tree Care, we have both the equipment and skills to properly remove unwanted stumps and clear the way to create your vision for your piece of our beautiful urban forest. Stump removal is a specialty of ours, so let us put our knowledge to work for you!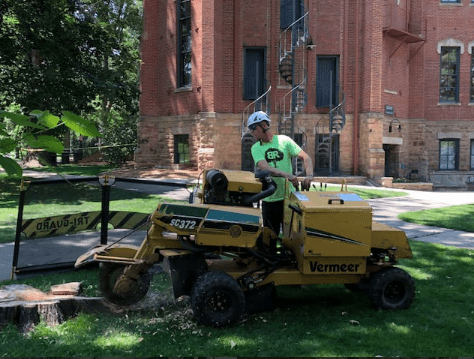 What are the Benefits of Stump Removal?
With how busy life can be, sometimes it's tempting to just leave that stump in the ground. We often think that "we'll get around to it one day," or "it's not hurting anyone." While that may be the case right now, there are many reasons to be proactive and get rid of old tree stumps as soon as possible:
Stump grinding presents an environmentally friendly solution
Improves the look of your property
Reduces the potential for unpredictable sucker growth
Allows for easier replanting of the area
Allows for easier mowing
Removes the safety hazard of a remaining stump
Can prevent the spread of disease to the remaining trees, plants, and shrubs when concerning a diseased tree. This is especially true of ash trees that have been infested with emerald ash borer
Eliminates the potential for a stump to become home to unwanted wildlife - from wasps to squirrels
Saves money! Stump chips can be reused as mulch for flower beds
Saves energy and frustration from the hassle of digging out a stump
We are ISA Certified Experts
We are passionate about the safety and health of our area's trees. That's why our employees work hard to earn their certification from the International Society of Arboriculture (or ISA for short.) This designation is given to professionals who meet a strict set of education and training requirements in the field. Once achieved, our arborists maintain these certifications through ongoing education, conferences, industry testing, and field experience.
When it comes to Longmont, Colorado stump removal services - including stump grinding - you can trust in our reputation for results. Safety and the care of our customers are our highest priorities.
TREE CARE SERVICES FOR LONGMONT COLORADO'S URBAN FOREST
At Blue River Forestry & Tree Care, we love trees and are committed to the health and care of yours! We offer all aspects of arboriculture, including: tree service, tree trimming and pruning, tree removal, stump removal, Emerald Ash Borer consultation and treatment, and plant health care services.
We are fully insured and employ ISA Certified Arborists. We have the machinery, experience, and staff to manage all of your tree care needs, and provide tree care services to Boulder, Colorado, Broomfield, Louisville, Lafayette, Longmont, Erie, and Berthoud.
Are your Trees in Tip-Top Shape?
Call for a no obligation, free tree care evaluation, call (720) 256-9056