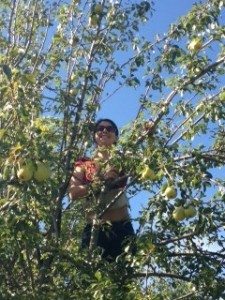 Winter is generally not a time when we think of fruit and flowers, as every thing is carefully resting in its dormant period. However, this is the best time to trim your flowering and fruiting species. These species of trees are prone to diseases like bacterial leaf spot and fire blight which are both contagious and inclined to spread to surrounding trees. Trimming during dormancy will contain the spread of these diseases and eliminate recurrence of the disease in the blooming period to follow.
Each species of tree has its own problems. Elms contract Elm Scale, Pines get Pine Beetle, Locusts are prone to thryonectria, and flowering trees get fire blight. All trees no matter the species are more prone to contracting a disease or pest problem if the tree is under stress. The best way to boost your tree's immune system is to make sure your tree is not wasting it's vital energy trying to
heal from storm damaged crack limbs, torn bark, or from mechanical damage to the root system.
Having your fruit trees properly trimmed at the proper time will not only protect your tree from pest infestation, its branches will be able to withstand the weight of the fruit. Trimming off dead, dying, diseased, or weakly attached branches will lighten the fruit load and protect branches from breaking. It will remove branches that will develop competing small fruit leaving the strong, dominant branches more room to grow, resulting in more and larger mature fruit developing.
Thinning the canopy of your fruit tree will also allow more light and air penetration for developing fruit. It leaves the remaining laterals and branches more room for vigorous growth and will prevent premature fruit dropping. Flowering species such as Mountain Ash trees, and ornamental fruit trees need this extra care to prevent cracked limbs and improper leafing. Leaves are photosynthetic "factories" that create food for their trees. You want the best branches to produce the most leaves to feed the tree, and eliminate dead and dying branches that are interfering with the proper absorption of sunlight to begin the photosynthetic process. Crown thinning and pruning will create a perfect kitchen in the branches of your trees.
The first step to eliminating a future pest or disease problem is to promote healthy growth in your trees. Proper pruning at the proper time may be all your tree needs to produce the sweetest smelling flowers or the most delicious fruit. Winter is a great time to care for your fruiting and flowering tree species and you will see the rewards come blossom time.