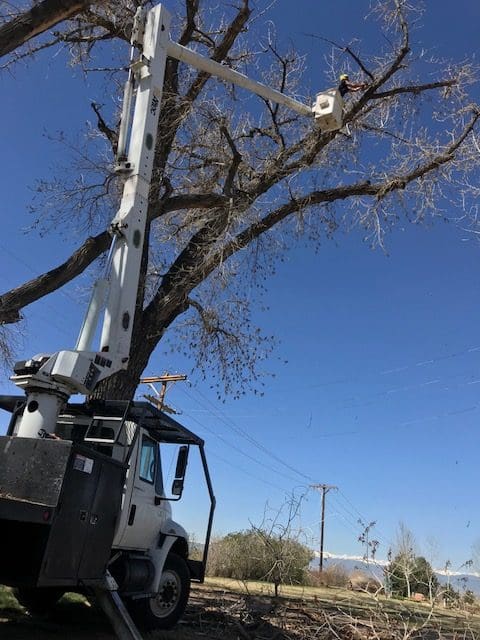 There are lots of tree species that are native to Colorado, and many of them grow quite happily here in Broomfield, Colorado. In addition, there are many types of trees that can thrive here with the proper care and attention. As ISA (International Society of Arboriculture) certified arborists, our entire team here at Blue River Forestry & Tree Care is passionate about taking care of Broomfield, Colorado's urban forest.
We do everything we can to keep Broomfield's trees healthy and thriving. However, there are circumstances when tree removal is the best course of action, both for the safety of the people around the affected tree and the health of the entire ecosystem.  In most cases, the affected tree is dead or in decline already due to age, pest infestation, or disease.
Whatever the circumstances, our experienced team is ready to find a solution to the problem. We will carefully and thoroughly evaluate your trees and come up with a plan of action that will be best for their overall health - including efficient, professional tree removal if necessary.
Five Reasons to Remove a Tree From Your Property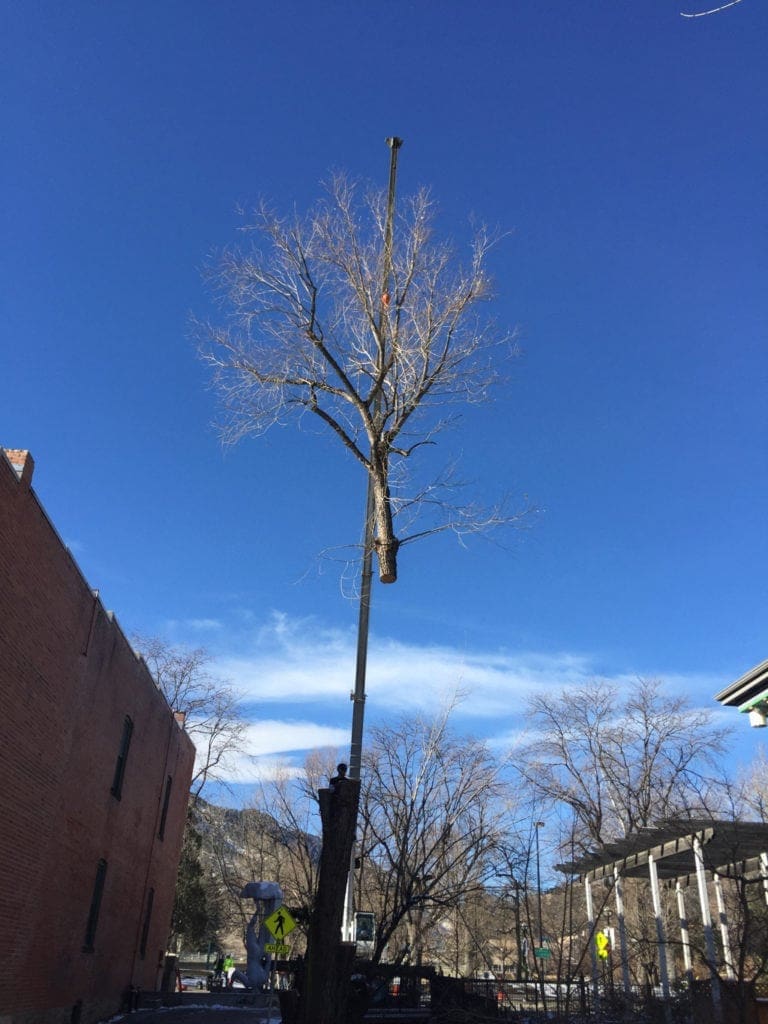 Tree removal can be a tough decision to make when the trees on your property start to decline, whether from maturity, disease, or weather damage. Just like us, trees are living organisms that are affected by a number of different factors from disease to injury to daily wear-and-tear. However, when trees become a safety risk to people or structures there is little room for mistakes when it comes to its removal.
If you suspect the trees around your home or business in Broomfield, Colorado are beginning to decline, call in the professionals. At Blue River Forestry & Tree Care we have the equipment and skill to safely and efficiently remove hazardous trees from your property.
Before we recommend tree removal, we conduct a thorough evaluation first. When evaluating the trees on your property, we take into consideration a number of factors, including the tree's age, species, vitality, and the surrounding environment and structures. There are certainly times when tree removal is the best course of action, but oftentimes, trees under stress can be rejuvenated with the proper care by qualified professionals.
Our ISA certified arborists are experienced and knowledgeable and will carefully evaluate each tree before recommending removal.
With decades of combined professional tree care experience, our team has identified the top five reasons for tree removal:
The tree is in decline or dead
The tree has suffered irreparable storm damage from heavy snow, flooding, or wind
The tree is diseased or infested (for example, by emerald ash borer), and is either terminal or not a good candidate for treatment for other reasons
The tree has become dangerous to its surrounding environment, including structures or power lines, or it impedes an important line of sight
The tree is an undesirable species or size, is causing problems like overcrowding or allergies, has become a nuisance, or doesn't fit in with its surroundings' aesthetics
In any of the above cases, our tree care professionals are here to help guide you every step of the way from tree care to tree removal, formulating a plan to meet the individual needs of your property.
Emergency Tree Removal in the Case of Storm Damage
As Colorado, and especially the Front Range, is notorious for unpredictable weather, our team is prepared for emergency tree removal situations in the case of storm damage.
Swinging from sunny 70-degree days in December or January to sudden bursts of snow in May can all add up and have damaging effects on trees. From broken branches under the weight of heavy snow to uprooting entire trees from strong winds, we've seen our fair share of inclement weather in Broomfield, CO, that can lead to costly damages to your home and landscaping. Trees that have become unstable because of inclement weather can pose a threat to you, and your loved ones, and your property. However, instead of being tempted to trim a broken tree limb on your own or removing the tree entirely, we recommend resisting the temptation and calling the professionals. When a tree is a safety risk to people or structures there is little room for mistakes when it comes to its removal.
It takes a professional to successfully gauge the risk posed by a damaged tree, and our ISA certified arborists will always answer the call to keep you and your property safe.
The Dangers of Insects and Disease
Across the Front Range in Colorado, a major cause of tree decline and death is due to insects or tree disease. Whereas tree damage by inclement weather may be more noticeable and thus triaged faster, the dangers of tree decline by insects and disease can often go unnoticed by the untrained eye. We understand it's easy to miss the tree's small warnings unless you've been trained to look for them. By the time you realize your tree is struggling, it may be too late for treatment and tree removal becomes the only safe option.
Perhaps the most notorious pest affecting trees in the city of Broomfield and greater Colorado is the emerald ash borer. First identified in 2002, these beetles have killed hundreds of millions of ash trees across the US.
Due to the biology of the emerald ash borer and the current scope of the infestation in the Front Range, removal of damaged or dead ash trees is often the best option if you have an infected tree.
Our ISA certified arborists will work with you to determine the safest, most efficient way to remove your tree while also limiting the spread of the infestation to other ash trees in Broomfield.
We are dedicated to providing high-quality, efficient emerald ash borer treatment services to protect both the overall tree health of our communities and the safety of your property.
Aside from emerald ash borer, other tree pests and diseases that can afflict trees in Broomfield include chlorosis, where there is a lack of critical nutrients in the soil. In some cases, Colorado's harsh weather can add to the spread of tree disease, resulting in irreversible damage if not mitigated by tree care professionals.
At Blue River Forestry & Tree Care, we specialize in diagnosing disease and insect infestation. If possible, our certified arborists will develop a future-focused care plan for the management of tree disease. If treatment is not an option, we may recommend tree removal.
In the case that tree removal is the right solution, it's then time to think about how to deal with the stump that's left behind. Stump grinding is often the most efficient, effective way to eliminate unsightly stumps. At Blue River Forestry & Tree Care, we offer itemized quotes that include the price of both tree removal and stump grinding.
Leave Broomfield Tree Removal Up to the Professionals
It may be tempting to want to remove a broken tree branch on your own soon after a snowstorm, or even to consider a DIY tree removal attempt for a declining tree on your property. In all tree care cases, attempting to remove a tree on your own can be dangerous and, in some cases, fatal. Instead, leave the tree trimming, removal, and stump grinding to the professionals.
Tree care professionals like our ISA certified arborists have the skills, training, and equipment to safely remove your tree. We take every precaution to keep your property and surrounding landscape safe from damage.
From shrubs to hazardous trees, we have invested in the most up to date and low impact equipment to offer our clients safe, efficient, and cost effective tree removal.
Call us today at (720) 256-9056 to set up a no-obligation evaluation with one of our ISA certified arborists!
TREE CARE SERVICES FOR BROOMFIELD COLORADO'S URBAN FOREST
At Blue River Forestry & Tree Care, we love trees and are committed to the health and care of yours! We offer all aspects of arboriculture, including: tree service, tree trimming and pruning, tree removal, stump removal, Emerald Ash Borer consultation and treatment, and plant health care services.
We are fully insured and employ ISA Certified Arborists. We have the machinery, experience, and staff to manage all of your tree care needs, and provide tree care services to Boulder, Colorado, Broomfield, Louisville, Lafayette, Longmont, Erie, and Berthoud.
Are your Trees in Tip-Top Shape?
Call for a no obligation, free tree care evaluation, call (720) 256-9056