April is quickly approaching and as you look around you can see the freshness of
Spring starting to arise. Green baby buds are starting to form, little bugs are beginning
to grace us with their presence and if you live in Colorado, the strong fierce Spring
winds have begun. 80 mph winds were topping the charts in Boulder the other day and
unfortunately are wreaking havoc on our newly budding trees. So what do you do when
your 50 ft Spruce tree topples over and smashes your fence, barely missing your
home? You call in an ISA Certified Arborist.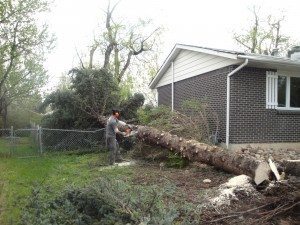 Blue River Forestry & Tree Care is a premier tree service in Boulder County
which not only employs ISA Certified Arborists, we have the machinery and
knowledge to easily remove any storm damaged tree. Thankfully, not all trees are
completely toppled over by fierce winds and most only incur minor storm damage such
as broken leaders or limbs. However, broken leaders hanging over your play yard,
house or drive can cause their own damage and can be hazardous is their very own
way, hitting a fence may be your last fear if a broken leader is hanging over your swing
set. Call an arborist immediately if you see storm damage on your property to prevent
further breakage. Blue River Forestry & Tree Care has day of emergency appointments
in Boulder and surrounding areas for tree removal and/or care and will come to any
hazardous call within in hours.
Prevention is the best way to deal with storm damage. Proper pruning practices
by a professionally certified arborist will minimize the risk of storm damage and create a
healthy growth pattern for your trees to be able to with stand the fierce Colorado winds.
Proper pruning will remove the dead, dying, diseased, crowded, weakly-attached, and
low vigor branches from the crown of the tree so you will have less breakage and less
danger during storms. We all know the climate here changes rapidly and snow in April
is not uncommon. April snow is wet and heavy and great to play in, but if your tree has
weakly-attached branches or dead and dying branches those will be the first to break
during a heavy snow load. Protecting your trees is protecting one of your property's best  assets, so call today for a free estimate on Spring trimming.