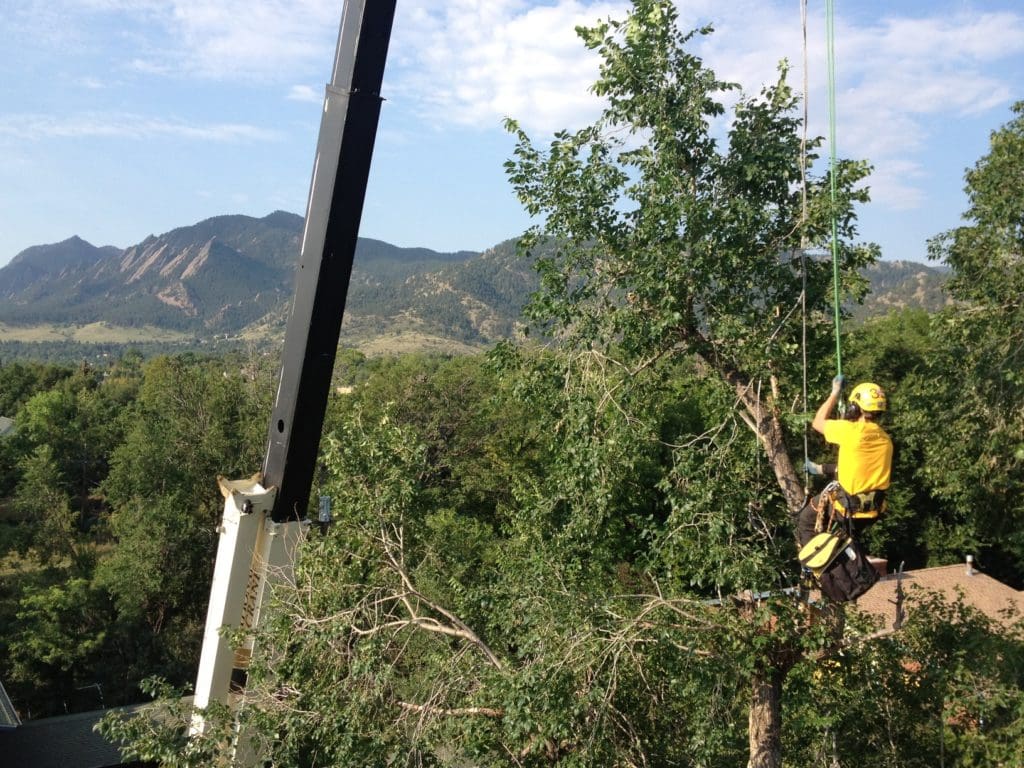 Throughout the past few years, Louisville, Colorado has been ranked as one of the top places to live in the United States, according to Money magazine. There are a lot of factors that contribute to Louisville, Colorado's appeal - its restaurants, shops, and small-town vibe among them. However, Louisville, CO is also attractive because of its surroundings as well as the landscaping within the town itself. Its healthy trees and green spaces contribute to the comfort and well-being of both visitors and locals alike!
As ISA (International Society of Arboriculture) certified arborists, we're passionate about taking good care of Louisville's urban forest. Part of that is knowing with tree removal is necessary for both the safety and health of the tree's surroundings. In most cases, the affected tree is dead or in decline already due to age, pest infestation, or disease. Whatever the circumstances, we're here to make sure your tree removal goes right.
Why Might I Need to Remove a Tree From My Property?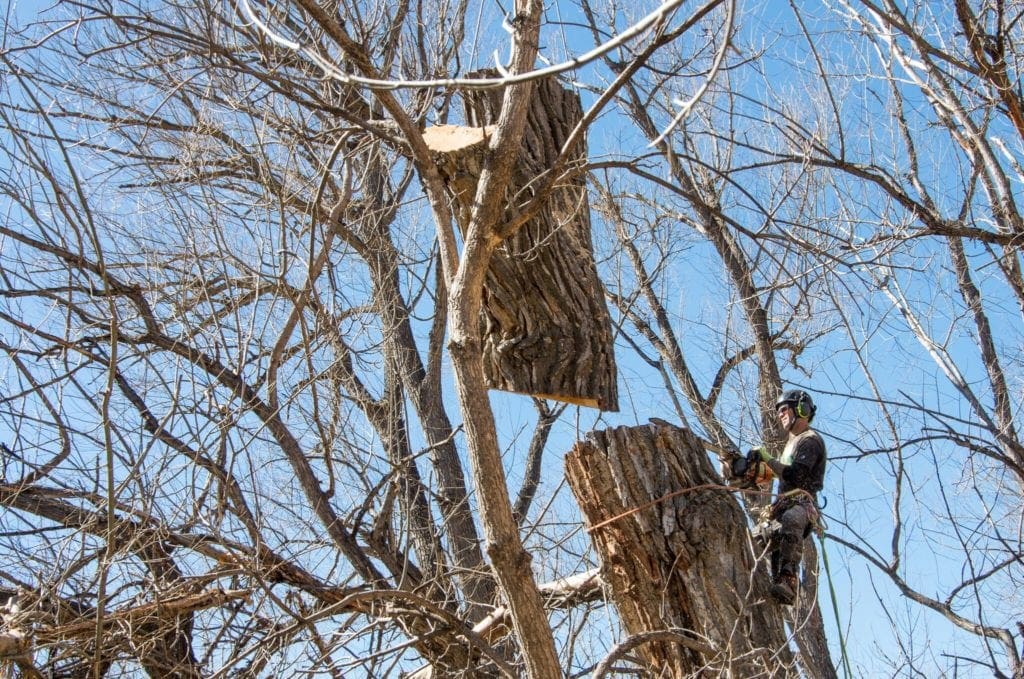 Trees that are well cared for can often live for decades, providing families with a beautiful living landscape, comforting shade, and endless entertainment for growing children. However, like us, trees are living organisms that are affected by a number of different factors, from disease to injury to daily wear-and-tear.
In the urban forest environment leaving a dead or dying tree standing can cost a homeowner thousands of dollars, if the tree or tree limbs should fail and cause damage. A tree may seem healthy or okay to the untrained eye, but may be structurally weak and a hazard waiting to happen. This is why it's critical to have trained professionals evaluate your trees.
When evaluating your trees (especially if one or more is a candidate for tree removal) we take age, species, stability, vitality, and the surrounding environment and structures into consideration.  Through our evaluation of hundreds of trees in Louisville, Colorado over the years, we've narrowed it down to the top five reasons that homeowners may want to consider tree removal and need our evaluation:
The Top Five Reasons For Tree Removal
The tree is in decline or dead
The tree is diseased or infested (for example, by emerald ash borer), and is either terminal or not a good candidate for treatment for other reasons
The tree has suffered irreparable storm damage from heavy snow, flooding, or wind
The tree has become dangerous to its surrounding environment, including structures or power lines, or it impedes an important line of sight
The tree is an undesirable species or size, is causing problems like overcrowding or allergies, has become a nuisance, or doesn't fit in with its surroundings' aesthetics
Our ISA certified arborists are experienced and knowledgeable and will carefully evaluate each tree before recommending removal, especially if there is evidence of tree disease or pests.
Tree Disease and How We Mitigate Insects
Trees like all living things are susceptible to disease and pest infestations, which are two of the leading causes of tree decline and death.  Luckily, the preventative measures that we take at Blue River Forestry & Tree Care can all but eliminate the threat of disease and pests. Sometimes, however, a tree may not be an ideal candidate for treatment or the disease or infestation is too far progressed for treatment.
In Louisville, Colorado and surrounding areas, we've been particularly hit hard by the emerald ash borer. Considered one of the most destructive forest pests in the history of North America, they target only ash trees, and have wreaked havoc on their population in Colorado and beyond.
While we are dedicated to providing high-quality, efficient emerald ash borer treatment services to protect both the overall tree health of our communities and the safety of your property, if treatment isn't an option, we may recommend tree removal. Due to the biology of the emerald ash borer and the current scope of the infestation in the Front Range, removal of damaged or dead ash trees is often the best option if you have an infected tree.
Aside from emerald ash borer, there are many other tree pests and diseases that can afflict trees in Louisville. In some cases, Colorado's harsh weather can add to the spread of tree disease, resulting in irreversible damage if not mitigated by professionals. Sun scald, drought injury, and frost injury all take their toll on trees each year. Mechanical damage that occurs from hail, wind breakage, and late storms can allow harmful pathogens to enter a tree.
Storm Damage and Emergency Response
The Front Range is notorious for its unpredictable weather patterns as we swing from blizzards to warm weather, sometimes all in one day. Severe spring and summer storms deliver heavy rain, hail, and strong winds, then the hot temperatures in the summer months can stress trees, people, and animals alike.
When inclement weather does strike, it may lead to costly damages to your home and landscaping. When fully-grown, mature trees are hit heavily, their storm damaged branches can be devastating - taking out power lines, crashing through roofs, or worse.
Trees that are damaged during bad weather need a professional to successfully gauge the risk, and our ISA certified arborists will always answer the call to keep you and your property safe.  Make the safe decision and resist the urge to do it yourself! We have the equipment and skill to safely and efficiently remove hazardous trees from your property.
Next Steps After Tree Removal
Just as our professionals evaluate your specific tree removal situation, we will also talk with you about next steps in order to eliminate unsightly stumps left behind after your tree has been removed. In most cases, stump grinding is next.
Stump grinding is often the most efficient, effective way to eliminate unsightly stumps. At Blue River Forestry & Tree Care, we offer itemized quotes that include the price of both tree removal and stump grinding. As professionals, we highly recommend not taking on stump grinding as a DIY project and in some situations, stump grinding may not be an option, or even needed.
When it comes to tree removal and stump grinding, leave the job to the professionals!
Leave Tree Removal Up to the Professionals
Tree removal can be an incredibly dangerous act if you're attempting to do it on your own. Not just to you, but also to your landscape and property.
Our professionals will take every precaution to keep your property and surrounding landscape safe from damage during the tree removal process. Our ISA certified arborists are trained to recognize structural issues such as internal decay, rot, or cracks when they're assessing the overall risk of a tree.  At Blue River Forestry & Tree Care, we have the skills, training, and equipment to safely remove your tree.
Call us today at (720) 256-9056 to set up a no-obligation evaluation with one of our ISA certified arborists!
Excellent Tree Services For LOUISVILLE COLORADO'S Urban Forest
At Blue River Forestry & Tree Care, we love trees and are committed to the health and care of yours! We offer all aspects of arboriculture, including; tree service, tree trimming and pruning, tree removal, stump removal, Emerald Ash Borer consultation and treatment, and plant health care services.
We are fully insured and employ ISA Certified Arborists. We have the machinery, experience, and staff to manage all of your tree care needs and provide tree care services to Boulder, Colorado, Broomfield, Louisville, Lafayette, Longmont, Erie, and Berthoud.
Get a Free Root-to-Crown Check-Up for Your Trees
Call for a no obligation, free tree care evaluation, call (720) 256-9056