Effective Tree Care Services by Experienced Boulder County Professionals
We take our trees seriously in Louisville, CO. So much so that we developed the Parks & Public Landscaping Advisory Board (formerly the Horticulture & Forestry Advisory Board) to support and promote healthy horticultural practices in our city. We know all about Emerald Ash Borer, the Walnut Twig Beetle, and Thousand Cankers Disease of the Black Walnut trees in the area. As a Louisville certified arborist - we can help provide the care and service for your trees, so they continue to provide shade, cover, and ambiance to your home.
All Aspects Of Tree Care - Covered!
Tree Trimming – Just like a yearly doctor's check-up, tree trimming is the most common and vital tree service. Regular trimming and pruning is essential for promoting the longevity and health of your trees. This can help your trees develop strong structures and desirable forms, making them sturdier and more aesthetically appealing.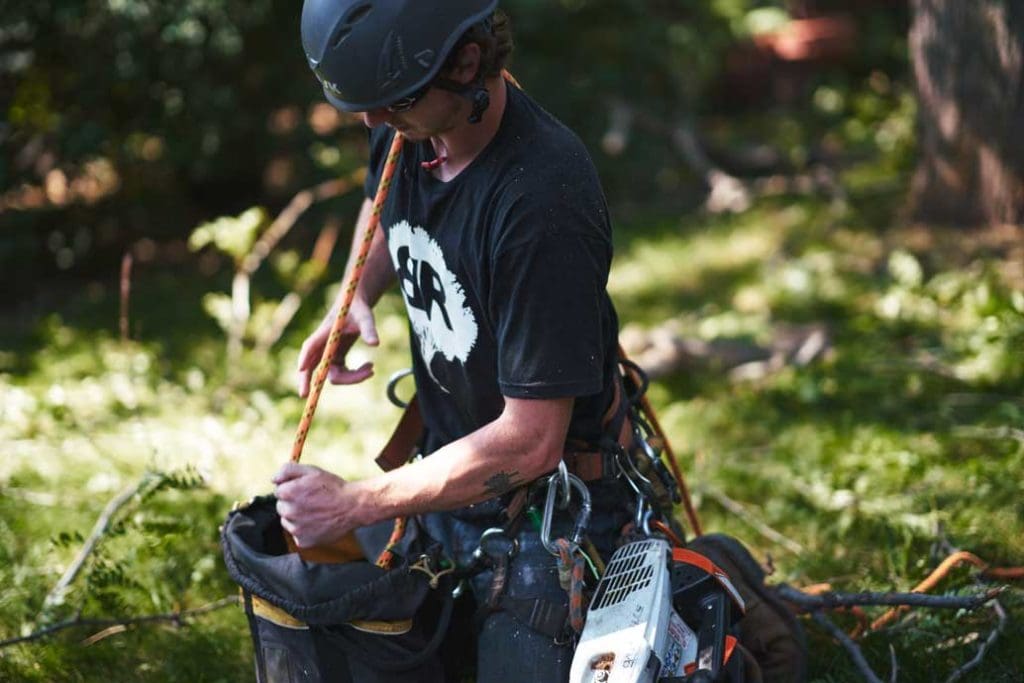 Tree Removal – From a precarious lean due to bad root structure to the death of your tree as a whole, there are many reasons why a tree might need to be removed. Our ISA Certified Arborists can determine the best course of action for your trees. If we recommend removal, our trained and insured technicians have the experience and equipment to properly and safely remove your tree.
Stump Removal – Stumps are inconvenient for a number of reasons. They can sprout sporadic and unpredictable new growth, they're difficult to mow around, they attract unpleasant insect-like wasps and hornet, and they can be a tripping hazard. The best way to deal with stumps is to grind them down, and our team excels at tailoring each job to fit the needs of individual trees and yards.
Bracing and Cabling – Installing tree support systems like braces or cables can help lower the risk of tree or branch failure—especially considering the Front Range's occasional harsh weather. However, due to a variety of important safety and structural factors, the installation of bracing and cabling should only be performed by trained, certified arborists. Additionally, any previous installation requires inspection every ten years to ensure it is still sound.
Tree Planting – Many tree varieties have life spans equal to or greater than that of humans. When choosing a plant that could outlive you, then, it's clearly important to select the right one! Our certified arborists can help you choose a species that will thrive in your plot of the Louisville, Colorado urban forest, fit in with your outdoor surroundings, and add aesthetic appeal to your environment.
Fire Mitigation – Here in the mountains, our residents have the beautiful opportunity to live where the urban forest meets the natural forest. However, this living area has unique landscaping needs and considerations, one of which is minimizing the risk of wildfire destruction. Our certified arborists can design and create a defensible space on your mountain property, increasing the chances that your home will survive a wildfire.
Are you at risk? Check out this risk map of Colorado from Colorado State University. https://csfs.colostate.edu/wildfire-mitigation/colorados-wildland-urban-interface/
Land Clearing – Mountain properties should be cleared of debris and brush to reduce fire risk, and any trees infected with pine beetles should be professionally removed.
Hauling and Chipping – We offer safe and thorough removal of brush and debris. We can also properly dispose of diseased wood to prevent infection or parasites from spreading.
Construction Preparation/Damage Assessment – We can inspect and assess your landscape prior to a construction project and offer suggestions on how to lessen the negative impact this could have on your trees. When construction is complete, we provide services to help minimize any damage done to your trees or outside environment.
Tree Services to Increase Plant Health
Routine Tree Care – Regularly inspecting and maintaining your trees helps preserve their vitality and ensures their sound structure. Issues like disease or insect infestation can be best treated when identified early. Our certified arborists can inspect your plot of urban forest, make suggestions to keep your trees in tip-top shape, and offer treatments and options to restore struggling ones back to health.
Arborist Consulting - We employ ISA Certified Arborists who have over 40 years of combined field experience and have the machinery, equipment, and staff to manage all of your tree care needs. If you're concerned about a particular tree, want to make sure they're all safe and healthy, or are curious about what you can do to keep them strong and beautiful, one of our consultants would be happy to help you!
Emerald Ash Borer – Emerald ash borer is an invasive beetle species that feeds on ash trees. It arrived in the United States in 2002 but didn't reach Colorado until 2013. With billions of ash trees in the United States, these little beetles have found it easy to thrive here, and EAB continues to be a serious threat in Colorado and the Western states. Treatment for emerald ash borer is most effective if started early. We recommend you call us as soon as possible to set up an evaluation of the health of your ash trees to keep them as healthy as possible.
Aerated Compost Tea - The root system of a tree is responsible for the absorption and transportation of essential minerals and water to the rest of the tree, including the leaves. The leaves are then responsible for photosynthesis, which provides food for the tree. Knowing this, it's easy to see why it's so important for your tree's root system to be embedded in rich, nutritious soil! If your soil lacks vital nutrients, the entire tree suffers. Aerated compost tea acts as a natural fertilizer that can replenish the soil and restore balance to your tree. Beneficial to all soil, compost tea can also be used throughout your garden to boost the health of your entire plant ecosystem.
Caring for and Maintaining Trees: A Combination of Art and Science
Put simply, arboriculture is the art and science of planting, caring for, and maintaining trees. The International Society of Arboriculture (ISA) has strict standards for the certification of arborists, specifically:
An in-depth knowledge of the fundamentals of tree biology
Understanding how to diagnose and treat problems afflicting trees and shrubs
Proper pruning and growth management techniques
Knowledge of how to choose the best trees and shrubs for a particular landscape, soil or climate
Nutritional requirements and fertilization techniques to keep trees and shrubs in peak form
Recognizing potential tree hazards
Tree climbing techniques and tools related to the trade
Proper tree cabling techniques
No matter what kind of tree service you need, certified arborists play a crucial role in everything we do here at Blue River Forestry & Tree Care. Our team includes ISA Certified consulting arborists who can expertly maintain and preserve the aesthetic and ecological value of your trees and shrubs. We can diagnose problems and potential hazards and suggest improvements to ensure the proper, healthy growth of your urban environment.
Creating a Better Future for Louisville, Colorado
Besides quality tree service, we offer a fully insured, uniformed staff, trained in accordance with the ISA standards. Plus, you can always depend on:
A steadfast commitment to the highest level of service and customer satisfaction
Rapid response to service calls and prompt arrivals to the property
Timely submission of accurate, competitive proposals
Comprehensive property audits, which can provide a clear assessment of the location and condition of every tree and shrub on your property
Property tours with property managers, HOA board members, or individual homeowners
Ongoing tree care contracts that can be customized to fit your management and budgetary needs
A guarantee that all tree work will be performed and/or supervised by an ISA certified arborist
Excellent Tree Services For LOUISVILLE COLORADO'S Urban Forest
At Blue River Forestry & Tree Care, we love trees and are committed to the health and care of yours! We offer all aspects of arboriculture, including; tree service, tree trimming and pruning, tree removal, stump removal, Emerald Ash Borer consultation and treatment, and plant health care services.
We are fully insured and employ ISA Certified Arborists. We have the machinery, experience, and staff to manage all of your tree care needs and provide tree care services to Boulder, Colorado, Broomfield, Louisville, Lafayette, Longmont, Erie, and Berthoud.
Get a Free Root-to-Crown Check-Up for Your Trees
Call for a no obligation, free tree care evaluation, call (720) 256-9056