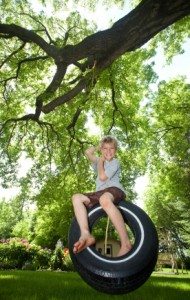 In this stuggling economy where house values are dropping, trees are an easy solution to increasing the value of your home. The beauty of trees alone enhances the aesthetics of a property and can raise your property value anywhere between ten and twenty percent. A well chosen arbor landscape adds curb appeal to your home and makes a home look established within it's environment. Nosy neighbors always popping their heads over the fence? Trees can create a privacy barrier not only from neighbors, but also from noisy busy streets. Realtors believe mature and healthy trees have a strong impact on a buyer's decision making process, as mature trees carry their weight in return investments.
Energy efficiency is a great return investment from planting trees. Trees provide shade during the summer,  reducing your cooling costs up to 30% according to the U.S. Forest Service.  Trees also reduce the heating effect on the planet by absorbing carbon dioxide and producing oxygen,  so cooling your home at the same time as cooling the planet  is a win-win situation for you and the earth.  Trees also act as windbreaks for your home, reducing your heating bills in the winter months.
There is nothing like reading a book under a huge Cottonwood,  relaxing and enjoying the weather.  Trees are mood enhancers, they spark memories from our childhoods, like when we used to climb the Apple tree or play on the tire swing tied to the old Oak. We see them as nature's playgrounds, they are the backdrops for family photos and a shady place to gather for lunch. Trees are the past, present and future. You may have planted that tree with your children, you enjoyed pushing your babies in the swing and now your grandchildren. When you do sell your house, the new couple will see these possibilities for their family.
Trimming your trees properly, maintaining their health, structure and growth will enhance all of these possibilities. Trees that are not properly pruned and taken care of can become headaches, and heartaches down the road. So show your trees a little tender loving care, giving thanks to trees, and the benefits will be endless.